Guizhou celebrates its Long March history (4)
(China Daily)
15:12, March 30, 2021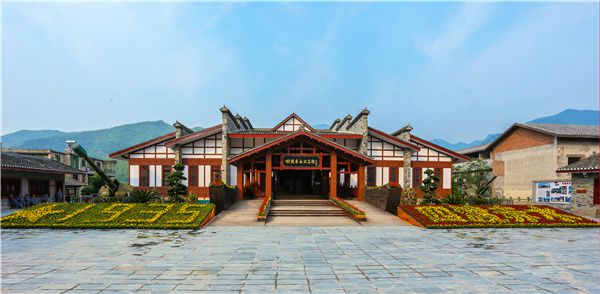 The memorial hall in Xishui county, the site of a key battle during the Long March in the 1930s. [Photo provided to China Daily]
In 2009, the county government built a memorial hall opposite the site of the Liping Conference. Visitors can view historical items and buildings at the site. Nearby, visitors can also choose to pick tea leaves and appreciate Dong music in the neighborhood.
This past Spring Festival, the Qiaojie red tourism zone that houses the Liping Conference site and former residences of historical figures, such as Mao's, had 45,000 tourist visits and earned 43 million yuan ($6.57 million) in revenue.
Local authorities are now working on upgrading the Liping Conference site and memorial hall, and will set up folk cultural museums on Qiaojie street, says Yang Zuhua, an official with the Liping Conference Memorial Hall.
This is in response to the country's call for developing a national Long March cultural park.
"We should strengthen excavation and organize the ancient city culture, so that the Long March National Cultural Park has a 'skeleton, flesh and blood', and fresh local culture," Yang says.
Xishui county
Under the command of Mao and other leaders, the Red Army crossed the Chishui River four times and escaped the encirclement of more than 400,000 Kuomintang troops from January to May 1935. It was one of the most brilliant military moves by the Red Army during the Long March, and a great example of the disadvantaged gaining the upper hand.
Xishui was the main battlefield where the four Chishui River crossings took place. The county built a memorial hall in 2006 in Tucheng ancient town where the first crossing happened. A cluster of museums covering an area of 15,000 square meters was also developed, integrating local red culture with folk art and customs. To date, Tucheng boasts a well developed red tourism industry with tourist sites such as the Female Chinese Red Army Museum and the Qinggangpo battle site that are popular among tourists. There are also a number of unique facilities that showcase local culture such as the ancient salt trade.
At the battle experience park, tourists can engage in role play and experience scenes of past battles, while enjoying modern tourism elements.
The Xishui county government has also continued to improve red tourism infrastructure over the years. Chen Zhao, deputy Party secretary of the county, says the government has developed forests, wetland parks and cycling lanes to enhance the travel experiences of tourists.
【1】
【2】
【3】
【4】
(Web editor: Wen Ying, Liang Jun)