Guizhou celebrates its Long March history (3)
(China Daily)
15:12, March 30, 2021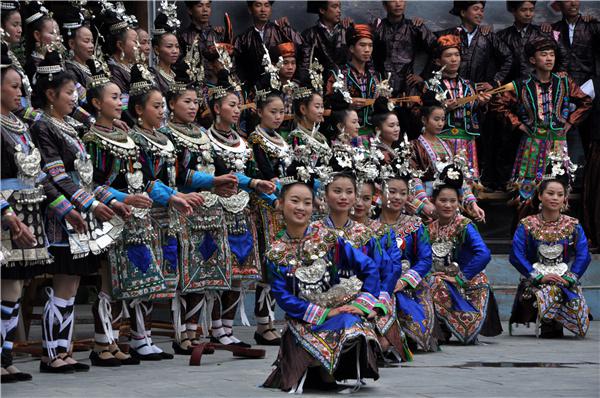 A chorus performs the Grand Song of Dong, classified as a World Intangible Cultural Heritage, in Liping. [Photo provided to China Daily]
The Zunyi Conference site opened to the public in 1955 and was one of the country's first facilities in memory of the revolutionary history. There are a large number of cultural relics, precious historical pictures and documents at the site, vividly reliving the course of the Long March.
The site uses information technology and an artistic approach to recount historical moments and offer immersive experiences.
"The scenes in the video were performed by special actors, using phantom imaging technology to restore the scene of the Zunyi Conference," says Zhang Xiaoling, vice-curator of the site.
"The isometric stereo imaging of this scale is the first of its kind at home and abroad."
Liping
On Dec 18, 1934, the Political Bureau of the Communist Party of China Central Committee held a meeting in Liping county that affirmed Mao's plans. They gave up the original plan of going north to Xiangxi to join two other Red Army troops, and established a new base at the border of Sichuan and Guizhou. This enabled the Red Army to avoid the danger of falling into enemy encirclement and paved the way for the Zunyi Conference.
Liping authorities have preserved a large number of cultural relics and historical sites from the time and combined it with local Dong ethnic culture to develop its red tourism.
【1】
【2】
【3】
【4】
(Web editor: Wen Ying, Liang Jun)