Guizhou celebrates its Long March history (2)
(China Daily)
15:12, March 30, 2021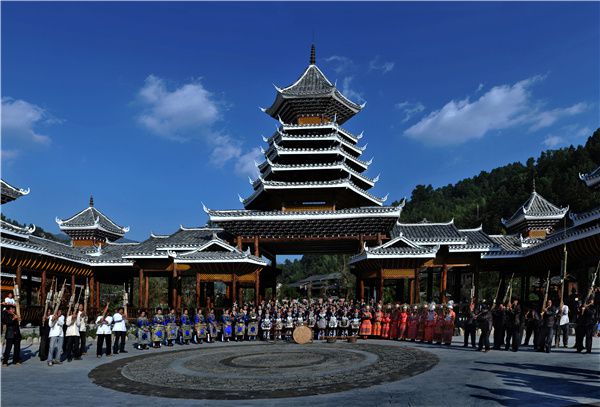 Performers play ethnic music to welcome tourists at the entrance of a Dong village in Zhaoxing, in Guizhou's Liping county. [Photo by Zhang Lin/For China Daily]
Downtown Zunyi
Zunyi has drawn tourists from across the country over the years for the historical significance of its red tourism. Tourists can relive the Long March days of the Red Army by appreciating the large number of cultural relics, precious historical objects, photos and documents that are on display at the historical sites.
Red tourism in the city continues to grow. During this year's Spring Festival, the revolutionary memorial halls and related cultural and museum sites received about 440,000 visitors, accounting for 19.3 percent of all tourists in the city, according to the local culture, sports and tourism bureau.
The site of the Zunyi Conference is the most popular red tourism spot, with more than 4 million tourist visits a year.
From Jan 15 to 17, 1935, the Political Bureau of the Communist Party of China Central Committee held the Zunyi Conference to solve the most urgent organizational and military problems faced by the Party. The conference established Mao Zedong's leading position in the Party and the Red Army, and saved China's revolution during an extremely dangerous historical juncture.
【1】
【2】
【3】
【4】
(Web editor: Wen Ying, Liang Jun)