SW China's Sichuan promotes bamboo-related industries
"My net profit from bamboo sales exceeded 200,000 yuan ($27,554)," said a major bamboo grower named Li Kaiming in Tianchi village, Meishan city of southwest China's Sichuan Province, when he recently cut down bamboo plants.
Li's bamboo plants were then delivered to a bamboo industrial park 15 kilometers away to make bamboo-fiber paper under the brand "BABO." The market share of BABO bamboo-fiber household paper has reached 30 percent in the Chinese market.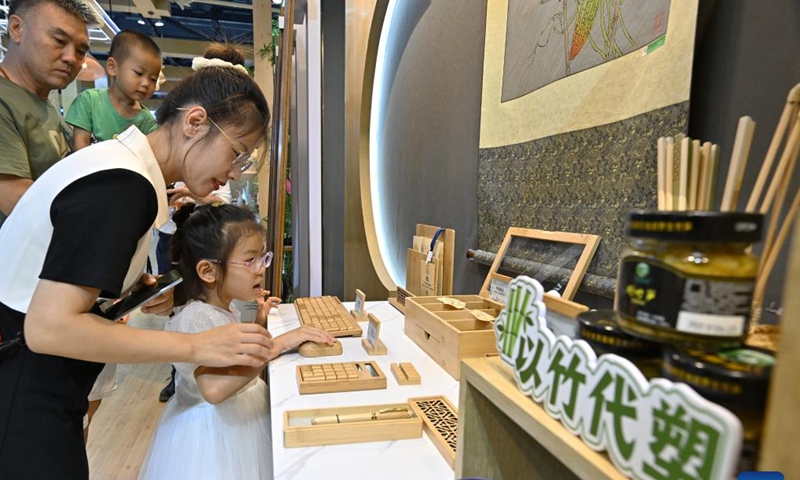 Visitors try mouse and keyboard made of bamboo at the environmental services exhibition of the 2023 China International Fair for Trade in Services (CIFTIS) in Beijing, capital of China, Sept. 2, 2023. (Photo/Xinhua)
The National Development and Reform Commission and other departments issued a three-year action plan on accelerating the development of the Bamboo as a Substitute for Plastic Initiative, providing new opportunities for Sichuan to expand and strengthen the bamboo industrial chain.
Naxi district in Luzhou city of Sichuan is determined to drive the development of various industries based on the bamboo industry to improve the locals' income and help boost rural revitalization, according to an official of the district.
The district has integrated the development of the bamboo industry into its rural revitalization plan and launched favorable policies to benefit companies involved in the industry.
"Loan interest subsidies of 120,000 yuan will be credited as early as this month. The amount is equivalent to waiving 36 months of property management fees, which eases our financial pressure," said an executive of a bamboo-fiber paper company.
The district has promoted the integrated development of the bamboo industry and culture and tourism sectors, and built 20 bamboo-related culture and tourism brands, which attract throngs of visitors during holidays and festivals, and on weekends.
It has also developed fungi, herbal medicine, husbandry and other industries in the bamboo forests to bring prosperity to local people.
The key is to ensure that the people engaging in the bamboo industry earn more, said an official of Naxi district. Statistics showed that the district's under-forest plantation and husbandry bases exceed 345,000 mu (23,000 hectares), and the output value per mu is expected to increase by over 4,000 yuan.
Sichuan has 18.35 million mu of bamboo forests, ranking second in China. However, one-third of the province's bamboo plants remain idle every year, according to statistics from Sichuan's forestry and grasslands administration.
To make use of idle bamboo plants, a state-owned forest farm in Guang'an city divided its 2,250 mu of bamboo forests into 15 parts and ensured the transition toward mechanized logging by adopting standardized planting and building operation paths.
"In the past, one worker could only cut down one tonnes of bamboo plants a day. Now, with machinery, one can log 6 to 8 tonnes," said an executive of the forest farm.
In October, a single-track transport facility was installed in Renhe township in Jiang'an county of Yibin city, making the shipping of bamboo plants more efficient. The equipment cuts labor costs for logging 1 tonne of bamboo plants by 80 percent, which was a significant improvement from the time when bamboo plants on over 10,000 mu of land were left idle.
Experts said Sichuan has to develop new bamboo processing technologies and expand new applications for bamboo materials.
In September, Sichuan issued a three-year (2023-2025) action plan to upgrade its bamboo industry, calling for strengthening scientific and technological support for the sector, and launching projects to tackle technologies for the production of bamboo products for daily use, and expand the scope of bamboo plants as substitutes for other materials.
"We have included bamboo processing as part of Sichuan's efforts to advance new industrialization, and organized companies and research institutions to tackle technologies and develop bamboo products," said an official at the Sichuan Provincial Economic and Information Department.
The province has also encouraged business acquisitions and restructuring, and made efforts to enhance brand building for Sichuan's bamboo products.
(Web editor: Hongyu, Du Mingming)