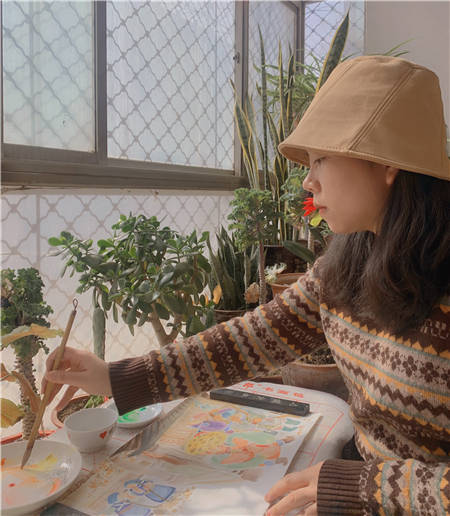 Picture books have been prominent in the overall children's book market, especially original titles created by Chinese authors or illustrators.
As of 2020, Hong Pi Feng, a sub-brand of China Citic Press specializing in children's books, where Mou's new series is being published, attained a total sales income of 200 million yuan (about $31 million) since its establishment in 2015, and has sold a total of 25 million copies of its books, according to its editors.c
Picture book critic Lin Xiaoxi (who goes by the pen name A Jia) says festivals and food have been favorite topics when Chinese creators are seeking inspiration from tradition.
"Like Spring Festival, as the ways to spend the holidays are varied, many creators now are exploring the modern meanings of the festivals, as people don't need them to get new clothes or have big meals anymore," A Jia says.
He offers examples like Nian by Zhu Yinghui, A New Year's Reunion written by Yu Liqiong and illustrated by Zhu Chengliang, and Nian, The New Year Monster by Xiong Liang. All of which won acclaim from an international audience when they were published or exhibited in overseas markets.
And to Mou, picture books mean something more to her: a director's mindset.
Mou says picture books share the same camera language as movies, storyboard skills, action design and more.
"In an era of short videos and livestreaming, our young people are educated mainly within a screenwriter's context, with the focus on written or spoken language alone, which to me is good," Mou says. "However, picture books help train the video director's mindset, and can be started from a very young age."
"They might do better and go further in the time of prevailing video language, aided by the speed of 5G technology."
【1】
【2】
【3】
【4】