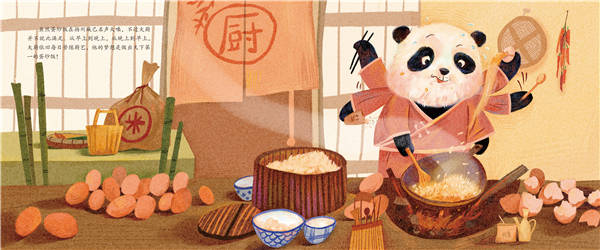 In 2017, Long Yuxin (who is known by her pen name Long Yi), was the university's graduate of year under Mou's instruction.
Long, 27, says she was fan of the teacher's lectures on picture books, though not a picture book major, she attended the lectures over two semesters. Mou is the one who inspired her to be an illustrator, as well as an art educator, in Chongqing.
She is among the six graduates who illustrate the series of books, with each one choosing a different style and technique, including ink and wash, rubbing, cloth collage, watercolor and digital painting.
To bring General Da to life, Long tried different styles and finally decided to combine ink and wash with rubbing prints.
"I could associate with the story well, memorizing houses built with mud and bamboo slats back home in the village where I lived as a kid," she says.
Some of the walls and floors, even mountains in General Da Who Makes Ciba are made from paper tissue prints, creating a pleated pattern.
Mou says the younger generation of illustrators is full of potential, growing up in this new era.
Long says she and her peers feel a strong urge to dig deeper into Chinese culture, while "keeping and developing its unique charms in an age of globalization, with our tone, our experience and our language," she adds.
According to the latest OpenBook data pertaining to the 2020 retail book market that was released in January, under the influence of the COVID-19 pandemic, total retail sales in 2020 dropped by 5.08 percent, after enjoying an average annual increase of around 10 percent between 2015 and 2019. Despite that, children's books and teaching materials, together with Party-themed titles, have kept the dynamic of upward movement in 2020, just at a lower level than the previous year.
【1】
【2】
【3】
【4】