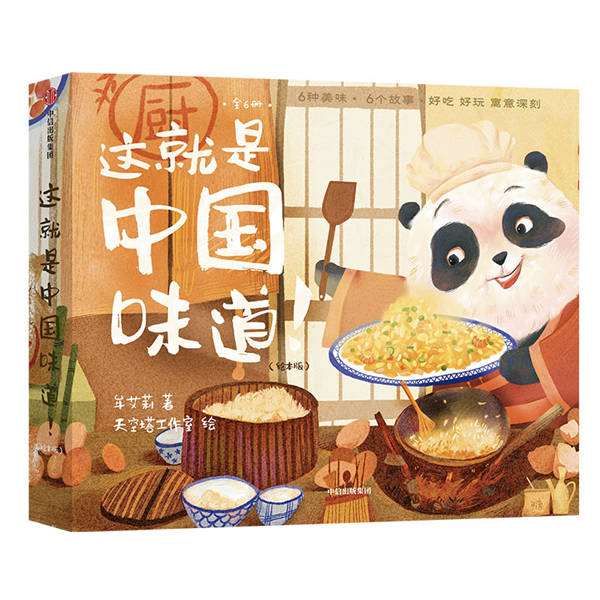 In General Da Who Makes Ciba (glutinous rice paste), she depicts a man who is always breaking things because he can't control his unusual strength. He is punished and confined to his home. He steams a pot of glutinous rice and, because of his enhanced brawn, when stirring it, accidentally grinds it into a paste, creating a much loved food.
As his adventure continues, and he joins the army, both he and his strength finds its place.
"This provokes readers to ponder the idea of knowing one's potential and finding the right place to utilize it", Mou says, adding some of the ideas that appear later in the story come from an old tale passed down from the Spring and Autumn Period (770-476 BC).
The image of the adorably clumsy General Da is loved by young students in the schools of Chongqing, the city where Mou works and lives. Before Spring Festival, Mou and the illustrator replicated the image on new year posters for readers to color in.
Mou also tells the story of eight-treasured rice congee as the unification of two villages formerly divided by a river, each of which produces four of the eight ingredients required for the dish-a tale which she says invokes the Chinese worldview of inclusiveness. The mooncake story, however, goes a step further and explores how to "think outside the box", planting the seeds of fantasy in younger minds.
The moon cake story is written using rhyming couplets that tell of a young boy who tames a monstrous rabbit that lives on the moon with the doughy treats he and fellow villagers make.
Mou, 40, says she often ignored food and regular meal times when she was busy working and teaching before her daughter was born in 2019.
"I suddenly realized that food is the first, and for a while the biggest, connection between a mother and her child," she says. "This is Chinese Taste carries on our cultural heritage and inspires the next generation to tell our stories to a global audience."
Having a bachelor's degree in drama and literature and a PhD in theater and Chinese traditional opera from the Central Academy of Drama, Mou has been teaching for over a decade.
【1】
【2】
【3】
【4】