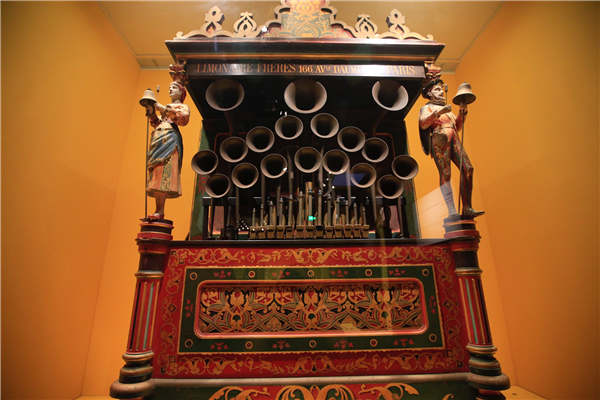 The ongoing exhibition at Kulangsu gallery in Xiamen, the Palace Museum's first satellite gallery, showcases many artifacts ranging from antique clocks and scientific instruments to enamel pieces and porcelain.
One of the items that was a hot favorite with the rulers was clocks. So, not surprisingly, the Kulangsu gallery features a 2-meter-high brass 18th century British revolving clock which is shaped like an elephant.
"Carrying exquisite clocks as gifts was common for Western missionaries approaching imperial courts since the late Ming Dynasty (1368-1644)," says Wan. "And the emperors and their concubines' interest in clocks did not die even in the following Qing Dynasty (1644-1911)."
Also, he says, that as many Western missionaries became officials in China, they brought a large number of scientific instruments to the courts.
For instance, emperor Kangxi (1654-1722) was a big fan of Western astronomy and geography, while his grandson emperor Qianlong (1711-99) was interested in Western items, ranging from snuff bottles to knives.
Some items at the satellite gallery focus on that history.
"Qianlong contributed hugely to the foreign artifact collection in the Palace Museum," Wan says.
"Qianlong was well known for his interest in Western art pieces. The gilt and enamel boxes at the exhibition showcase his tastes."
【1】
【2】
【3】
【4】
【5】
【6】