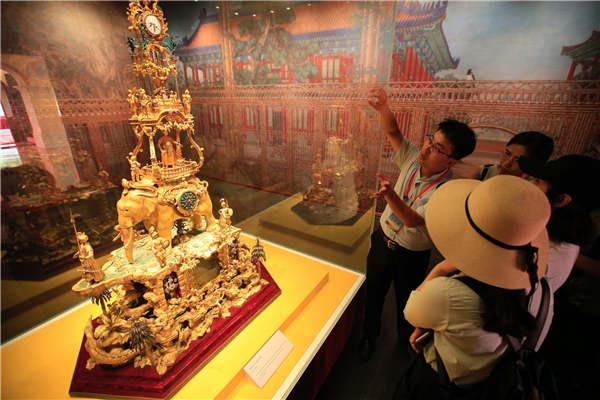 The ongoing exhibition at Kulangsu gallery in Xiamen, the Palace Museum's first satellite gallery, showcases many artifacts ranging from antique clocks and scientific instruments to enamel pieces and porcelain.
Data from the museum shows that there are around 13,000 foreign cultural relics now housed in the institution, but there was no permanent space to display them.
Referring to the satellite gallery, he says: "It has been set up to expand the influence (of the museum) just like top museums overseas set up branch galleries.
"Our current exhibition space in the Forbidden City is limited, but Kulangsu, where China interacted with other cultures is a perfect place to show these treasures."
As for Kulangsu's history, it is a true melting pot, as 13 countries, including the United Kingdom and the United States, established settlements there starting in the 1840s.
As a result, the tiny island features structures reflecting different cultures.
Coming to the rich collection of artifacts, the Palace Museum, which was China's royal palace from 1420 to 1911, received many gifts from Western missionaries and diplomats during the imperial years.
Many of the emperors were very fond of buying artifacts from abroad, according to Wan Xiufeng, a researcher at the Palace Museum.
【1】
【2】
【3】
【4】
【5】
【6】