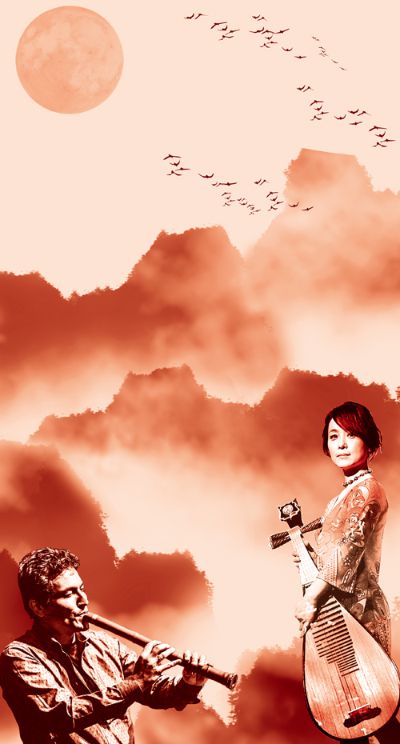 [Photo by Ismael Sandiego/China Daily]
The album was recorded in January 2020, before the coronavirus pandemic hit, at the University of California, Irvine, where Umezaki currently works as an associate professor of music. Born in Tokyo, the musician works, teaches, and performs in the field of computer music technology.
The first piece, Winter (Night Thoughts II) is based on Wu's composition for Tang's video installation in 2019. The music piece for pipa was inspired by the Buddhist caves at Dunhuang, Gansu province, dating back to the Tang Dynasty (618-907).
The other music pieces started as improvisations between the two musicians. Spring and Autumn are a duo performance while Summer is a pipa solo.
The closing piece, titled Bamboo, is a solo piece for the shakuhachi, which allows the listeners to step outside of seasons for a brief and suspended moment.
"With music, you can imagine the scenes of an eastern garden, such as the tranquility of snow and lively colors of summer," says Wu.
Umezaki adds that for the two duo pieces on the album (Spring and Autumn), there are some musical strategies that are fairly evident when one listens to those tracks. When played together, they often let one person lead and the other person support. Then, when the one in the lead is finishing a passage, the other will provide materials to transition from a support to lead role.
"Because the pipa can articulate clear rhythms much more than the shakuhachi, Wu Man will find moments to transition into a musical passage with a discernible pulse. That creates the opportunity for the shakuhachi to find melodic material to play over the pipa's rhythmic ideas," Umezaki says.
【1】
【2】
【3】