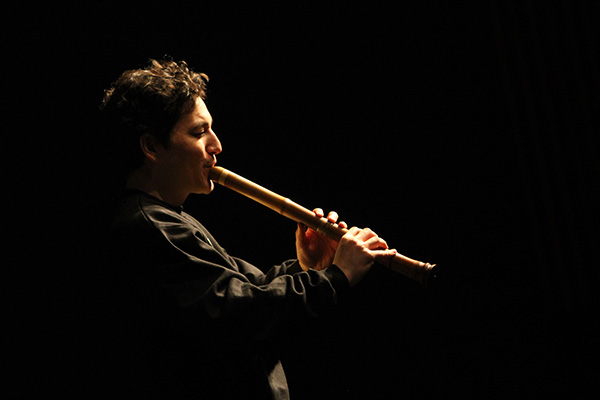 Man with flute: Shakuhachi (Japanese bamboo flute) performer Kojiro Umezaki.[Photo provided to China Daily]
Born in Hangzhou, Zhejiang's provincial capital, and now based in San Diego, California, Wu is regarded as the ambassador of the Chinese pipa in the West.
She began studying the instrument at age 9 and was enrolled at the Central Conservatory of Music in Beijing at 13.
As the country's first recipient of a master's degree in pipa at the conservatory, Wu moved to the US in 1990 to discover new sounds for her instrument.
The Grammy-nominated musician has imbued the 2,000-year-old, four-stringed Chinese lute with a contemporary twist, infusing it into a variety of genres, such as jazz, rock and electronic music. She also performs with symphony orchestras as well as contemporary dance and theater productions.
According to Wu, the idea of the new album started with a music project she was commissioned to do in 2019 by the Huntington Library, Art Museum, and Botanical Gardens, in San Marino, California. Wu was invited to compose and perform for a video installation work created by Chinese-American Tang Qingnnian against the backdrop of a spectacular 15-acre classical-style garden, Liu Fang Yuan, which is inspired by the gardens in Suzhou, East China's Jiangsu province. The video installation, titled Fragrant Rhythms: The Seasons of Liu Fang Yuan, celebrates scenes from all four seasons in the garden.
"The album is a kind of site-specific listening," says Japanese-Danish performer and composer, Umezaki, who joined the Silk Road Ensemble in 2001, where he worked with Wu for the first time. "Even if one can't be there in person, the album might nudge the imagination to take in a full year at one of the extraordinary gardens in the world, in less than 40 minutes."
【1】
【2】
【3】