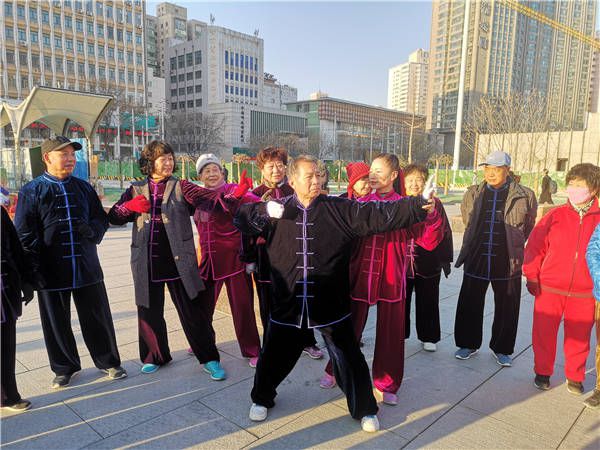 Long Jing (second from right) instructs enthusiasts during her daily morning exercise session at the Dongfanghong square in Lanzhou, Gansu province, on Friday. [Photo by Zhang Junwei/For China Daily]
Health in motion
In contrast to religious or martial forms of qigong, ba duan jin is primarily intended to improve health.
It was even adopted as a therapeutic fitness regime for mild cases of COVID-19 after Zhang Boli, president of Tianjin University of Traditional Chinese Medicine and the honorary president of China Academy of Chinese Medical Sciences, recommended it as an aid to recovery for patients in the makeshift hospitals in Wuhan, capital of Hubei province, last year.
The name literally translates as "eight-section brocade" as it consists of a sequence of eight movements that strengthen the muscles, improve circulation and respiration, and boost the immune system.
Dating back to the Song Dynasty (960-1279), the movements are easy to do, effective in improving health and promoting a graceful bearing. Being one of the simplest forms of qiqong, it is also one of the most popular, especially among people aged between 45 and 60.
One set of movements only takes around six minutes to complete, and it requires as little as 1 square meter of space.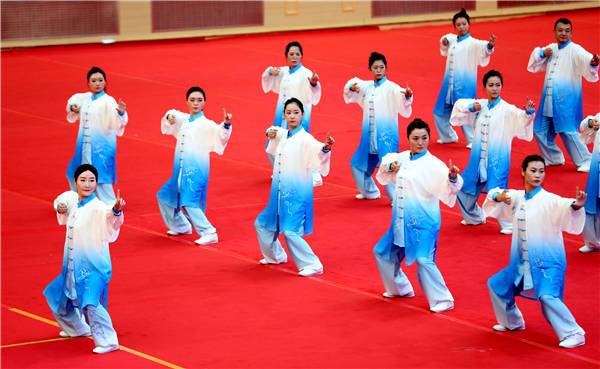 [Photo provided to China Daily]
Passing on a passion
Zhang Yan, 50, is also a fan of ba duan jin.
She did not know about the exercise until the 2020 Gansu Provincial Ba Duan Jin Contest in November, for which Long acted as instructor. The contest was organized jointly by the work committee of departments under the CPC Gansu Provincial Committee and the Gansu Sports Bureau.
After signing up for it, she started to receive a one-hour daily training with 29 other colleagues under professional guidance. After two weeks of practicing, she fell in love with it.
"It looks easy to learn, yet very energy-consuming, because you need to be highly concentrated. A whole set only takes a few minutes, but I sweat a lot after repeating a set several times. I feel refreshed and invigorated afterward," she says.
Her company won first prize in the contest, which encouraged her to continue practicing.
"An unexpected bonus for me is that my 'love handles' have gone. Losing weight is known to be difficult for women at my age, but I am in better shape now. So, I plan to encourage my sisters to practice with me during the Spring Festival family reunion," Zhang says.
She has also found something to strive for after retiring, as she wants to become a tutor like Long and introduce ba duan jin to more people.
Long also has a goal, which is to perfect her own ba duan jin. She is keen to collect feedback from those following her lessons and to interact with professionals and experienced practitioners based on study and comparison of the feedback she receives.
"Ba duan jin is not a rigid fitness regime. It's important to get people's reactions to the exercises and listen to their responses, so that it can be tailored more to meet modern people's needs. I think that is my responsibility and it is my passion. In my opinion, this is the true inheriting of a treasure of Chinese culture," She says.
Ba duan jin has been included as one of the six qigong events open to public participation at the ninth Gansu Provincial Games to be held in August.
【1】
【2】