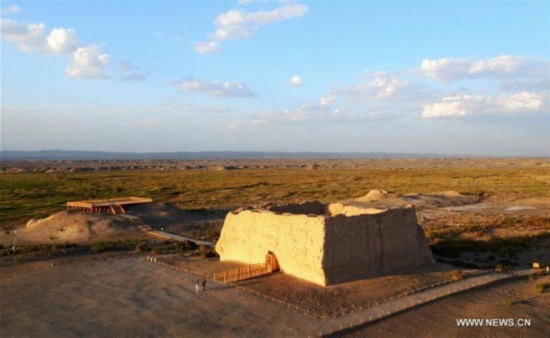 Ruins of the Yumen Pass is seen in Dunhuang, Northwest China's Gansu province, Sept 8, 2016. [Photo/Xinhua]
All of these things will help to provide a better experience for visitors.
Highlights of the trip
While the entire length of the Dunhuang Railway is an exceptionally scenic ride through the Qilian Mountains and Gobi desert, there are nine extraordinary scenic spots along the way.
Mogao Grottoes
Sitting in Dunhuang, the Mogao Grottoes are home to a priceless collection of Buddhist artwork. The 1,650-year-old UNESCO World Heritage site boasts more than 2,000 sculptures and 45,000 square meters of murals housed in 735 caves carved into the cliff face. Digging of the site began in 366.The artifacts there symbolize the great achievements of China's Buddhist art from the fourth century to the 14th century.
Great Wall of Han Dynasty
The Great Wall of Han Dynasty (206 BC-AD 220) in Dunhuang was an important construction for both frontier safety and cross-border trading, made by piling up sand and weeds. Over the past 2,000 years or so, many parts of it have been lost to erosion, but the remaining sections still reflect traces of the original wall. Built from a mixture of sand, dry dirt, rose willow, reed and apocynum, the wall spans 136 km from the Northern Lake in the east to Mamitu, bordering Xinjiang in the west.
Laohugou glacier No 12
Located in Subei Mongolian autonomous county, Gansu, Laohugou glacier No 12 is the largest valley glacier in the Qilian Mountains and has been the focus of pioneering glacier field observations. It is a major water source for the Hexi Corridor, part of the ancient Silk Road. Despite its rapid recession as a result of climate change, it is still an impressive sight.
Yumen Pass
Yumen Pass is located in the Gobi Desert, about 90 km northwest of Dunhuang and was a strategic point on the ancient Silk Road. It served as an important passage for jade from the western regions. The parapets of the pass still remain, in square rammed-earth structures.
【1】
【2】
【3】
【4】