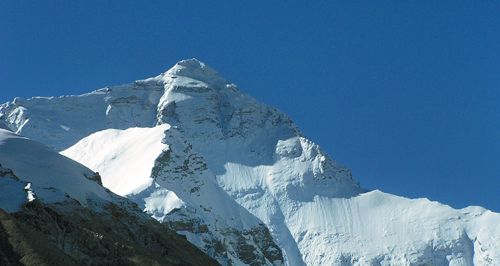 Located in Subei Mongolian autonomous county, Gansu, Laohugou glacier No 12 is the largest valley glacier in the Qilian Mountains and has been the focus of pioneering glacier field observations.[Photo provided to China Daily]
"Based on the Dunhuang Railway, we are able to promote high-quality, circular train tours in West China," Fu Qingzhong, an official of a travel service affiliated with the China State Railway Group, told Xinhua News Agency.
As a major stop on the ancient Silk Road, the historic trading network linking East and West, Dunhuang is best known for the Mogao Grottoes, which cover a large expanse of Chinese history, including the golden age of the Tang Dynasty (618-907).The relics there were inscribed on the UNESCO World Heritage list in 1987, one of the earliest listed sites in China.
In ancient times, the oasis city in the Gobi desert, at the far western limit of traditional Chinese settlements along the Silk Road, was the first trading town encountered by foreign merchants entering Chinese territory from the west.
In the early 1970s, Dunhuang's importance as a trading hub had been largely lost due to a lack of good transportation infrastructure.
Thanks to increasing investment in infrastructure projects, the city saw robust growth and development in tourism last year. It received more than 13.37 million trips in 2019, generating nearly 15 billion yuan ($2.15 billion) in tourism revenue, according to the latest statistics from the local cultural and tourism authority.
In 2005, the number of visitor arrivals to the city first passed 1 million.
Amid a growing influx of tourists from both home and abroad, local authorities have expanded Dunhuang airport and accelerated construction of railways and highways. The 976-million-yuan expansion project on the Dunhuang airport enables it to handle an annual capacity of 960,000 passengers and 1,700 metric tons of cargo.
【1】
【2】
【3】
【4】