Founder and CEO of Huawei Ren Zhengfei took part in a group interview on May 21 at the company headquarters in Shenzhen, in southern China's Guangdong province.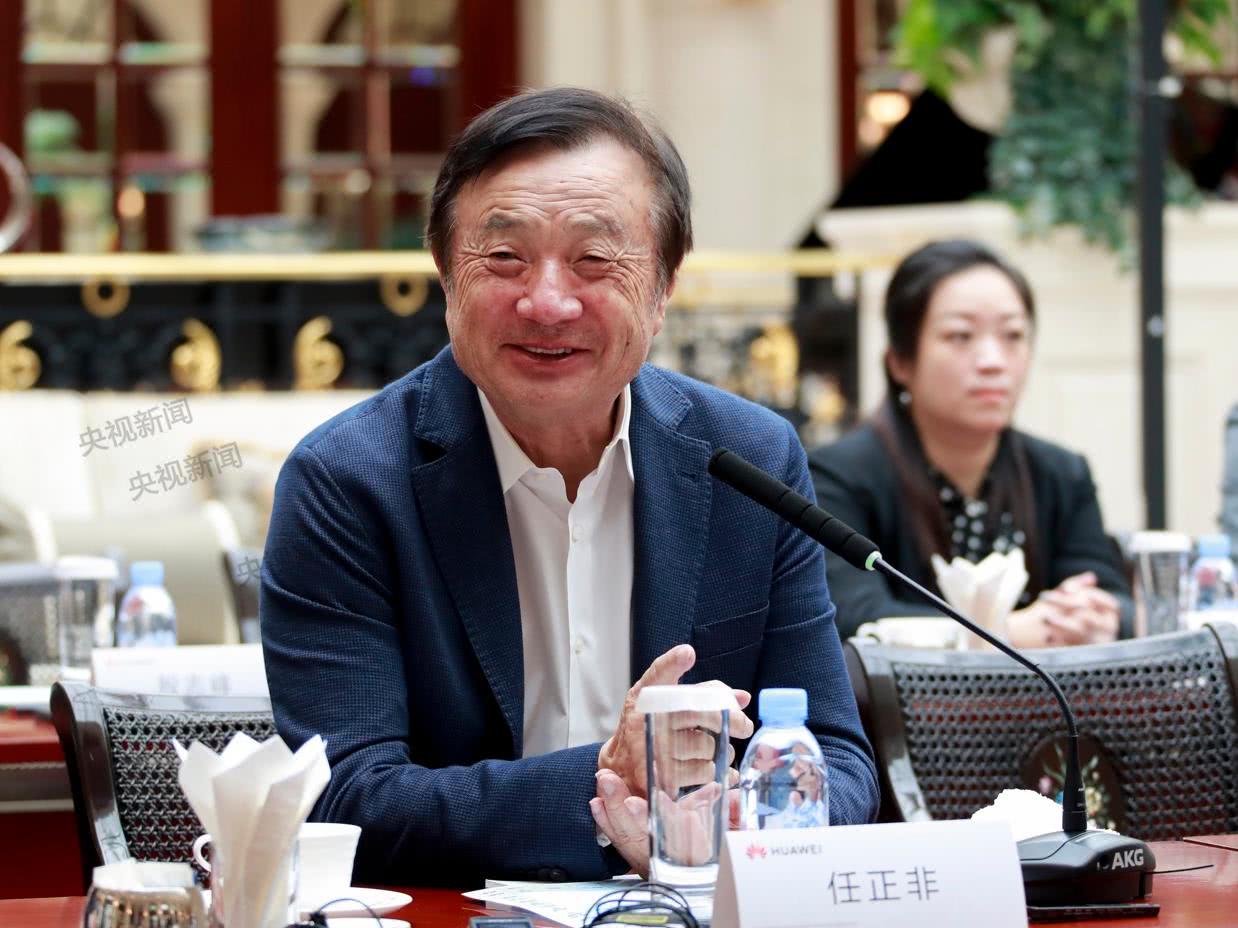 Ren Zhengfei (Photo/CCTV)
It was Ren's first interview with domestic media after Washington placed the company and its affiliates on the "Entity List" which requires any US company to gain government approval before doing business with the Chinese tech company.
During the interview, Ren responded to hot issues such as 5G, chips, and the current US ban on Huawei.
The US Department of Commerce added Huawei and 70 affiliates to its so-called "Entity List" for national security reasons on May 15, and granted a 90-day temporary license, loosening restrictions on business deals with the Chinese tech giant.
The following are extracts from the interview.
(xinsheng.huawei.com)
CCTV: Just now, another media representative took out a photo of a bullet-ridden aircraft. I was also given this same photo. I heard that you like this photo very much, the photo of the badly damaged fighter aircraft.
Ren: I first saw this photo on wukong.com, feeling that the aircraft was quite like our company. So I sent it to my colleagues. The Carrier BG thought the aircraft in this photo is akin to its situation and started using it for communications.
Later, we found that there were not many problems with the Carrier BG, since it has been getting fully prepared over these past 10-plus years. So our current situation is that we are repairing our "aircraft" during its flight so that it can make its way back home.
CCTV: But this aircraft was able to fly back, because its vital parts, such as its fuel tanks and engines, were not damaged. Only the non-vital parts of its wings were damaged. But if its vital parts were attacked during a flight, how was it possible for it to make its way back?
Ren: I want to tell you two stories about Germany and Japan during World War II. Germany refused to surrender, so its cities were flattened by air-strikes. Japan was also attacked by intensive bombardments. The US army threatened that if Japan did not give up, intense bombing would also flatten the country. At the end of the day, Japan decided upon a compromise, which was to announce the country's surrender but keep their Emperor. By the time the surrender came, the majority of Japan's industrial infrastructure was destroyed, but the country did not suffer the fate of being leveled like Germany.
Back then, there was a famous slogan: "Even if everything else is lost, as long as people remain, they will revitalize the nation." The truth is, Germany was able to revitalize its economy and restore all its houses to the extent before the war in just a few years. The Japanese economy also recovered very quickly. This was attributable to their talent, education systems, and foundation. This is what matters most. So even if we lose everything else, we can't lose our talent. This includes their qualities, skills, and confidence. This is very important.
CCTV: Yesterday (US time), the US issued a temporary license to Huawei. In other words, its restrictions on Huawei can be lifted in the following 90 days. What's your view on this license? What could you do in these 90 days? If the news is true and the US cancelled the imposed restrictions after 90 days, how would you comment on such a reversal?
Ren: First of all, 90 days doesn't mean much to us, and we have prepared. To us, the most important thing is to do our job well. What the US will do is out of our control. I would like to take this opportunity to express my gratitude to the US companies that we work with. Over these 30 years, they have helped us to grow into what we are today. They have made many contributions to us. As you know, most of the companies that provide consulting services to Huawei are based in the US, including dozens of companies like IBM and Accenture.
Second, we also have been receiving support from a large number of US component and part manufacturers over all these years. In the face of the recent crisis, I can feel these companies' sense of justice and sympathy towards us.
The US has added Huawei to the Entity List. That is to say if a US company wants to sell something to Huawei, it needs to obtain approval from the US government.
The US is a country ruled by law. US companies must abide by the laws, and so must the real economy. So you guys from the media should not always blame US companies. Instead, you should speak for them. The blame should rest with some US politicians.
US politicians might have underestimated our strengths. I don't want to say too much about this, because Ms. He Tingbo, President of HiSilicon, made all these issues very clear in her letter to employees. And all mainstream newspapers inside and outside of China have reported on this letter.
You touched upon the damaged aircraft just now. We have some non-core products for which we haven't prepared "spare tires", or Plan Bs, so to speak. These products will be phased out sooner or later. So the US move will have some impact on these products. But in sectors where we have the most advanced technologies, at least in the 5G sector, there won't be much impact. Not just that, our competitors won't be able to catch up with us within two to three years.
People's Daily: I want to ask a question about chips. I noticed that you said in an interview with Japanese media on May 18 that "Huawei does not need chips from the US. There is no problem with Huawei." Can I ask where your strengths come from and what you have done to prepare?
Ren: First, we are always in need of US chips. Our US partners are fulfilling their responsibilities and asking for approval from Washington. If this approval is granted, we will still buy chips from these suppliers. We may even sell chips to US companies (to help the US make more advanced products). We won't exclude our US partners or seek to grow entirely on our own. Instead, we will grow together.
Even if there is an insufficient supply from our partners, we will face no problems. This is because we can manufacture all the high-end chips we need ourselves. In the "peaceful period", we adopted a "1+1" policy – half of our chips come from US companies and half from Huawei. Despite the much lower costs of our own chips, I would still buy higher-priced chips from the US. We cannot be isolated from the world. Instead, we should become part of it.
Our close relationships with US companies are the result of several decades of effort on both sides. These relationships won't be destroyed by a piece of paper from the US government. As long as these companies can obtain approval from Washington, we will continue to buy in large volumes from them. It may be the case that they cannot obtain approval quickly. Once approval is granted, we will maintain our normal trade with these US companies and work together to build an information society for humanity. We don't want to work alone.
Xinhua News Agency: You once said that Huawei wouldn't be working behind closed doors and would cooperate with others. Now you are saying that Huawei will be doing both things. Does this mean that US trade protectionism and the US ban on Huawei are essentially disrupting global supply chains and causing chaos in the market? What do you think are the focus areas of criticisms against Huawei? Why are they targeting Huawei?
Ren: I don't know exactly what those US politicians are thinking. I think we should not be the target of US-led campaigns just because we are ahead of the US. 5G is not an atomic bomb; it's something that benefits society.
In terms of network capacity, 5G is 20 times larger than 4G and 10,000 times larger than 2G. The power consumption per bit of our 5G base station is ten times lower than 4G, and the size is 70% smaller. Our 5G base station is very small indeed, about the same size as a briefcase. It's also light – about 20 kilograms. You don't have to build a cell phone tower for 5G base stations, because they can be installed anywhere – on poles or walls. They can work for decades because they are made of anti-corrosion materials. This means that our 5G equipment can be installed even in underground sewage systems. It is especially suitable for European markets, where there are many areas with historical buildings and it's impossible to build giant cell phone towers like those in China. Of course, the existing towers in China won't lay idle, because our 5G base stations can be installed on them too – it's just that we don't need to build new towers.
With our 5G base stations, our customers in Europe can reduce their engineering costs by 10,000 euros per site. They won't need to use cranes for installation, and they won't need to build cell phone towers. In the past, our customers had to use cranes to install huge pieces of base station equipment, and the surrounding roads had to be blocked off during the installation process. Now, they can easily install our 5G base stations by hand. It's super easy.
The bandwidth of 5G is very high – so high that it can support a huge amount of high-definition content and easily transmit 8K video. They're saying that 5G will reduce costs tenfold; in fact it's more like 100-fold. This means that ordinary people can watch high-definition TV programs, and they can learn a lot from these programs. To develop further, every country needs to rely on culture, philosophy, and education. These form the foundation of national development. Therefore, 5G will change our society for the better. Latency on 5G networks is extremely low, so 5G will be rapidly adopted in many industries for all sorts of purposes.
While there might be "holes" in our aircraft wings, we will continue to focus on developing our core and to lead the world in these areas. The more advanced a product is, the more comprehensive its Plan B will be.
Global Times: The letter from HiSilicon President has created a lot of excitement in the media. People in the chipset industry take an objective approach to the gaps between companies in China, the US, and other countries in terms of chips and other core components. What do you think is the position of Huawei's in-house products and R&D? The letter also gave an assurance that Huawei can ensure supply continuity. Is that assurance true?
Ren: I think that if you feel worked up about something, you should start by taking a cold shower. In my opinion, what's most important is to be calm and level-headed.
It's worth learning from US companies in terms of their depth and breadth in science and technology. We lag far behind in many aspects. Some small US companies are providing super advanced products. We have only focused on our business and become a leader, but we haven't attempted to compare ourselves to the US as a nation. On a business level, I think the gap is quite small between Huawei and certain US companies. On the national level, however, there are huge gaps between China and the US.
The Paper: Records show that HiSilicon was established in 2004. After so many years of efforts, you can produce your own chips for many purposes. How did you or Huawei decide to make your own chips? Ms. He said that Huawei began planning for the most extreme conditions many years ago. How well can you serve customers if the US companies stop supplying chips to you?
Ren: In early 2000, we decided to sell Huawei to a US company for about 10 billion US dollars. A contract was signed with this company, and all relevant procedures were completed. The deal was ready to be completed once it received the approval of the US company's Board of Directors.
While we were waiting, the Board of Directors of the US company was reelected. Their new board chair was somewhat short-sighted and rejected the acquisition deal. After this deal failed, our senior executives were deciding whether to sell Huawei to someone else. All of our younger executives unanimously said no. I could not reject this, so I replied, "We will have to square off against the US when we reach the top. We need to get prepared." Since then, we have been considering the question of what happens when we meet the US at the top, and have begun to make preparations for this. That said, we will ultimately embrace each other because we want to work together with them to make contributions to society.
【1】
【2】