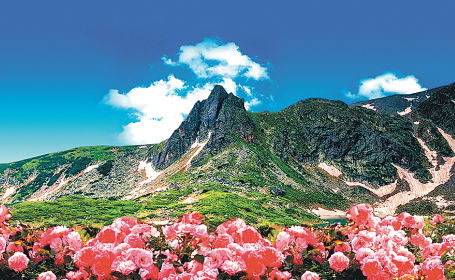 [Photo provided to China Daily]
Romania has been added on the trip and tourists can take in legendary vampire-related sites and an ancient castle.
Bulgaria and Romania now offer those with multi-entry Schengen visas free access to their country.
Distinctive hotels are a highlight in France when tourists visit the countryside to see the immense fields of spiky lavender.
In Provence, the lavender season continues from June to August. The fragrance is said to dispel trouble and help one find peace. In the country's southern city of Nice, the Negresco Hotel is perched on the bay and wins raves from visiting celebrities from around the world. It offers Michelin-starred dining, too.
At Lake of Sainte-Croix, accommodation can be arranged at La Bastide De Moustiers amid lavender fields and olive trees, a thorough immersion in elemental southern France.
HHtravel has set aside time for tourists to meander in the blossom sea and take pictures. In Paris, tourists can opt for the Shangri-La Hotel built on the private mansion of Napoleon Bonaparte's grandnephew to feel the royal touch.
The best time for flower viewing in the Netherlands is from late March to early May. Unlike Utour, HHtravel chooses Keukenhof as a destination, for visitors to savor the country's famous tulips. The park offers 6 million flowers of many varieties, not just tulips. Boating experiences can also be arranged. In addition, visitors can take a small airplane to get a bird's-eye view of the multicolored tulip fields. Tulip field owners can offer tour groups an introduction to local history and culture, and the Aalsmeer flower market offers a glimpse into an exciting slice of local life.
【1】
【2】
【3】
【4】