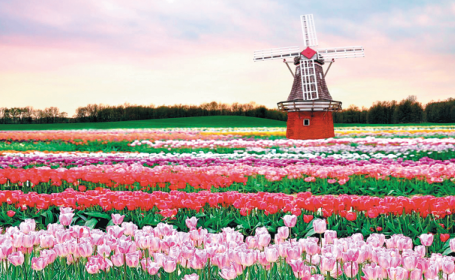 [Photo provided to China Daily]
In addition to flowers, local in-depth experiences, various outdoors activities, including cycling and watching live sports shows, have been arranged to spice up visitor's experiences.
Utour has added tours that include Michelin dining, a Kyoto kimono experience and the Sagano Romantic Train in Japan. The 25-minute train ride follows the course of the Hozu River on a narrow-gauge track through an idyllic canyon. In the Netherlands, cycling through fields in full bloom, a fresh flower auction and riding a vintage steam train through villages filled with flowers are also on the itinerary for April and May travelers.
It's also an ideal time to avoid crowds, to travel and enjoy flowers before the peak tourism period, when summer vacations start in June.
You don't have to rough it to enjoy nature.
HHtravel, the high-end branch of China's biggest online travel agency Ctrip, has rolled out blossom trips with luxury arrangements all around the globe.
In Bulgaria, a land of idyllic beauty in the Balkan region, the travel agency arranges for visitors to experience the annual local rose festival on the first Monday in June. Tourists can enjoy various activities, such as rose-picking, a parade and voting for the rose queen. It's a great way to feel the country's distinctive charm and traditions in a festive atmosphere.
At Kazanlak Rose Valley, roses of different varieties, shapes and colors are a visual spectacle. A special rose-themed lunch will be served at a local wine cellar. Visitors can also get local rose water and see how essential oils are made at a distillation workshop and enjoy rose-petal bath salts.
Local world culture heritages including Rila Monastery and the Thracian Tomb of Kazanlak, a brick-vaulted "beehive" burial chamber, are also places travelers shouldn't miss.
【1】
【2】
【3】
【4】