SW China's Yunnan takes measures to preserve ancient tea forest culture
Nestled in the forest, the villages of Huimin township in Lancang Lahu Autonomous County, located on the southwestern border of Yunnan Province in southwest China, are surrounded by tea plantations. Here, people live harmoniously with nature.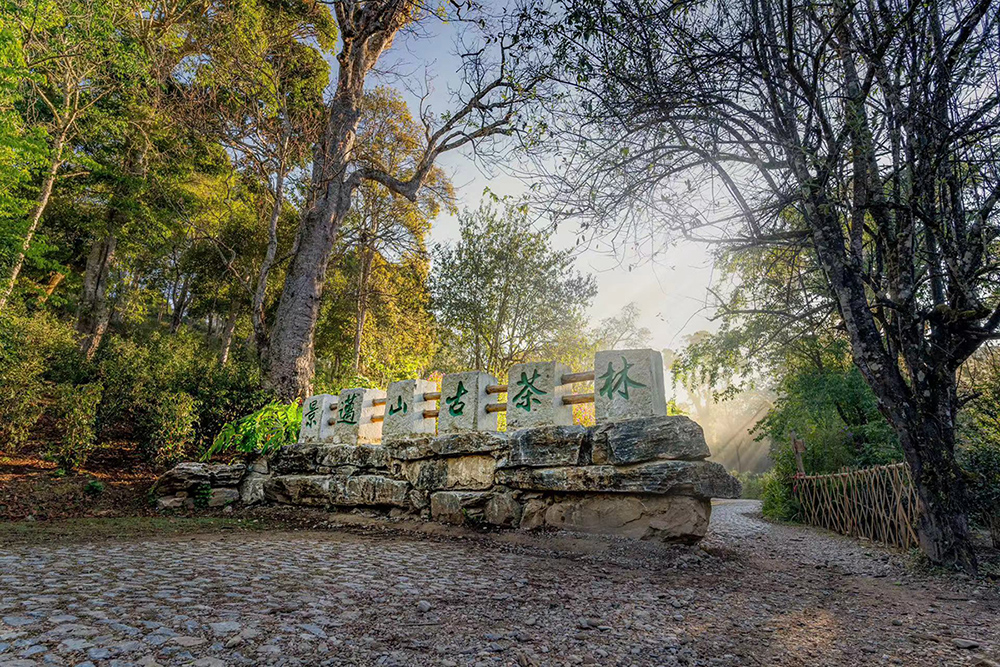 A photo shows the entrance to the Ancient Tea Plantations of Jingmai Mountain. (Photo courtesy of the Jingmai Mountain Ancient Tea Plantation Protection and Management Bureau)
Around 10,000 to 20,000 years ago, tea plants in southwest China weathered the harsh conditions of the Quaternary glacial period. Between the 10th and 14th centuries, as the Bulang and Dai ethnic groups migrated to Jingmai Mountain, they discovered forests rich with thriving tea plants. Recognizing the medicinal properties of these tea trees, they chose to settle in the area. They established villages within the forest and cultivated tea plantations on a limited scale.
Through exploration, the people developed a profound understanding of the production characteristics of Pu'er tea trees. Over time, they got better at mixing different plants and refined their planting techniques.
They established a layered growing system known as "understory planting" with canopy trees at the top, tea trees in the middle, and smaller plants at the bottom. [JB1] This setup optimizes the growing conditions for tea trees. This approach also harnesses the forest's natural ecological system, thwarting diseases and pests while supplying natural nutrients. Consequently, they produce high-quality organic tea leaves.
In this manner, the tradition of understory tea planting has endured for thousands of years.
On Sept. 17, 2023, the Cultural Landscape of Old Tea Forests of Jingmai Mountain in Pu'er was added to the UNESCO World Heritage List during the extended 45th session of the UNESCO World Heritage Committee in Riyadh, Saudi Arabia. It became China's 57th World Heritage site.
UNESCO acknowledges the Cultural Landscape of Old Tea Forests of Jingmai Mountain in Pu'er for its conservation system that adeptly manages the ancient tea trees. This system, intertwining government management with grassroots autonomy, is anchored in traditional beliefs. It fosters the preservation of cultural and biological diversity and the sustainable use of natural resources.
Chen Yaohua, director of Peking University's World Heritage Research Center, remarked that the vast ancient tea plantations stand as a tribute to human tea cultivation practices and offer a blueprint for the progression of mountainous forest agriculture.
The meticulously maintained understory tea planting approach embodies people's ecological values and their harnessing of nature's innate wisdom.
"The Jingmai Mountain ancient tea plantations further demonstrate that southwestern China is the birthplace of tea trees and the earliest location in the world where tea trees were discovered, utilized, and cultivated," Chen said.
The landscape consists of five ancient tea forest areas, nine traditional villages, and three protective forests. It is home to diverse ethnic communities, including the Dai, Bulang, Hani, Wa, and Han.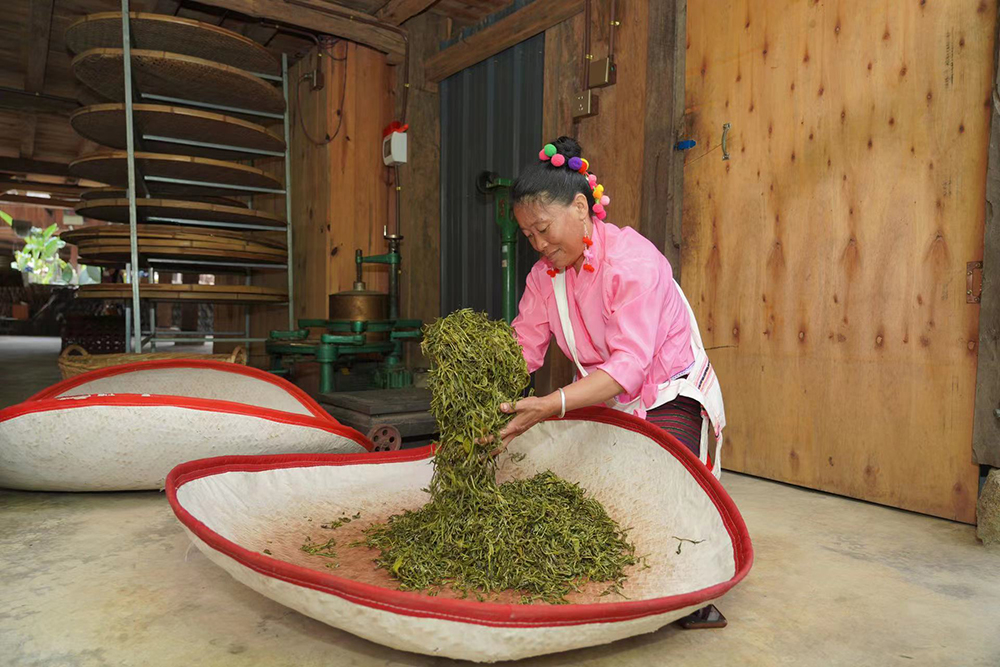 A woman rolls and twists tea leaves. (Photo courtesy of the Jingmai Mountain Ancient Tea Plantation Protection and Management Bureau)
The local people of Jingmai Mountain cherish a "tea ancestor belief" rooted in their profound reverence for their ancestors and nature. This belief system strengthens their commitment to safeguarding ancient tea plantations and fosters a strong collective identity.
On important occasions, the local community expresses gratitude to the tea trees and seeks blessings from their ancestors for the well-being of the tea plantations and villages.
Jingmai Mountain, as a multi-ethnic settlement, preserves diverse ethnic languages, music, customs, and festivals, which further enhance the allure of the ancient tea plantations.
Chen explained that the local community has taken active measures to promote the protection and development of traditional tea cultivation, harvesting, and processing techniques, as well as intangible cultural heritage such as the tea culture centered on "harmony" and the unique tea ancestor worship.
This endeavor encompasses creating and disseminating books on ethnic culture, enthusiastic engagement in the nomination process for intangible cultural heritage status, and mentoring the next generation to uphold these cherished traditions.
Chen articulated that the enduring belief system, communal structures, tea heritage, and knowledge reservoirs have significantly influenced Jingmai Mountain's continual evolution. The area presents invaluable perspectives on the harmonious progression of human societies and the interplay of diverse cultures.
The application for World Heritage status for Jingmai Mountain has led to the implementation of a more comprehensive protection system. As a result, these plantations are steadily advancing toward a brighter future.
Guan Qiang, deputy head of the National Cultural Heritage Administration (NCHA), stated that under the NCHA's guidance, three special laws and seven regulations have been issued and implemented since the initiation of the World Heritage application process. This has culminated in a comprehensive and legally compliant protection and management system.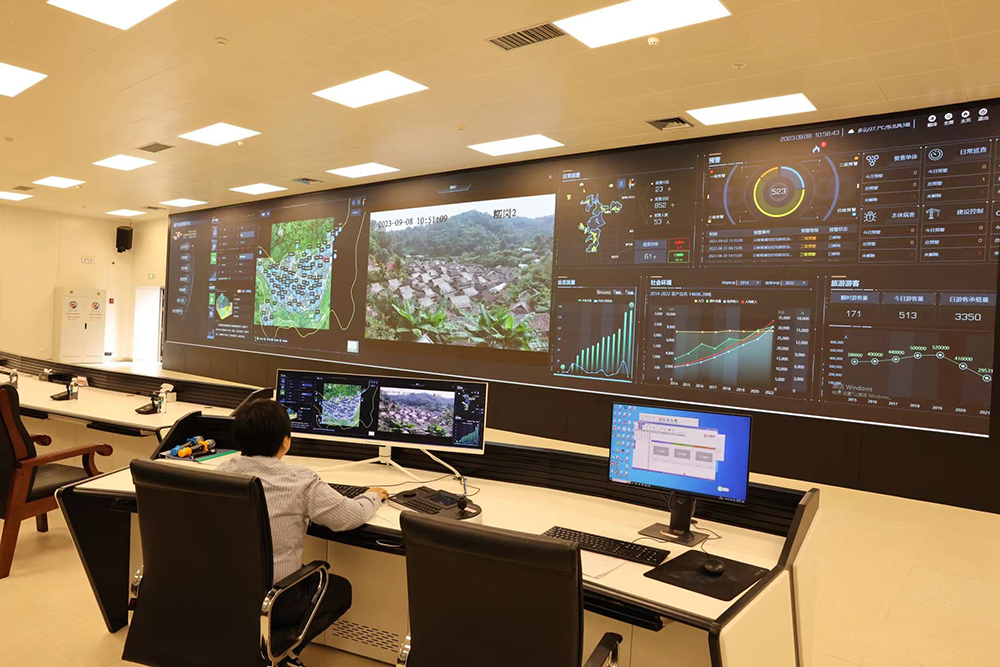 A photo displays the monitoring center of the Cultural Landscape of Old Tea Forests of Jingmai Mountain in Pu'er. (Photo courtesy of the Jingmai Mountain Ancient Tea Plantation Protection and Management Bureau.)
Over 90 percent of the labor force in Jingmai Mountain depends on tea for their livelihoods. Moreover, an increasing number of young people are opting to remain in their native lands, preserving the tea plantations and trees passed down by their ancestors.
Xian Gong, an entrepreneur, decided to return to her hometown post-graduation to chase her entrepreneurial aspirations. Thirteen years ago, she began a venture that combined a cooperative, tea factory, B&B hotel, and a hands-on experience store.
Last year, Xian assumed a leadership position, rallying 50 women to join her cause. Presently, their cooperative prides itself on a remarkable membership of 229 individuals, managing an expansive tea plantation that stretches over 9,000 mu (600 hectares). The tea plantation possesses an annual production capability of 200 tonnes of raw tea.
(Web editor: Hongyu, Liang Jun)