Lychee industry boosts rural revitalization in S China's Hainan
By leveraging its unique climatic conditions and sound ecology, Xiuying district in Haikou, capital of south China's Hainan Province, has turned the lychee industry into a vital channel for farmers to increase their incomes, embarking on a path of rural vitalization according to local conditions.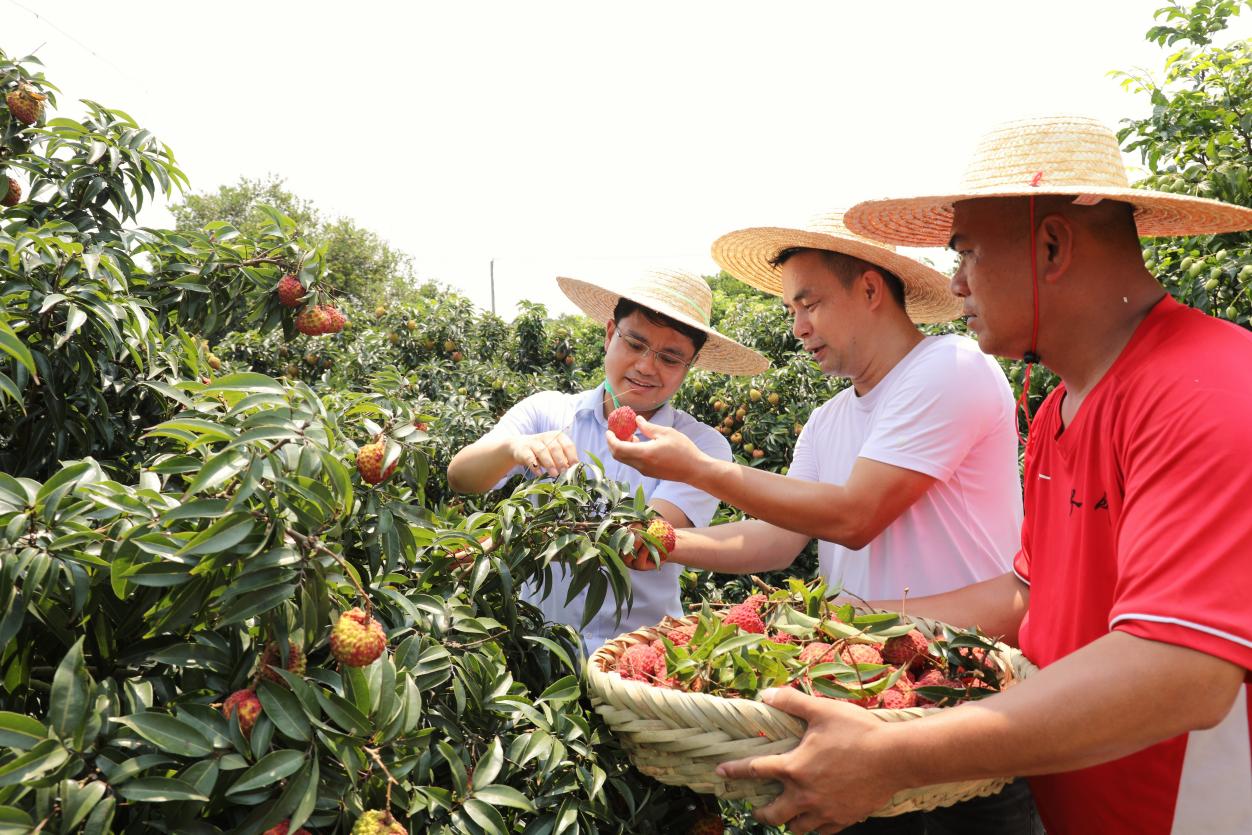 Liu Zhanliang (L), mayor of Xiuying district, Haikou city in south China's Hainan Province, checks on the growth of lychees with lychee growers. (Photo courtesy of the publicity department of the Communist Party of China Xiuying district committee)
With its excellent environment for planting lychees, Yongxing township in the district has become an important lychee-producing area in Hainan.
"Volcano lychees will be available on the market soon. Growers are preparing for a bumper harvest," said Chen Huaibai, an official of Yongde village in the township.
"I have planted lychee trees on 12 mu (about 0.8 hectares) of land, and my lychees are mainly sold outside Hainan," said Wu Kunzhao, a local lychee grower. Wu earned 200,000 yuan (about $28,293) from lychee planting last year. "The output of lychees is higher this year, and I will earn more," Wu said.
The planting area of lychee trees in Xiuying district reached 35,041 mu this year, said Liu Zhanliang, mayor of Xiuying district.
Liu estimated that the average yield of volcano lychees per mu in the district will hit 450 kilograms this year, and the total output of the fruit will reach about 15,000 tonnes, up 102.5 percent year on year.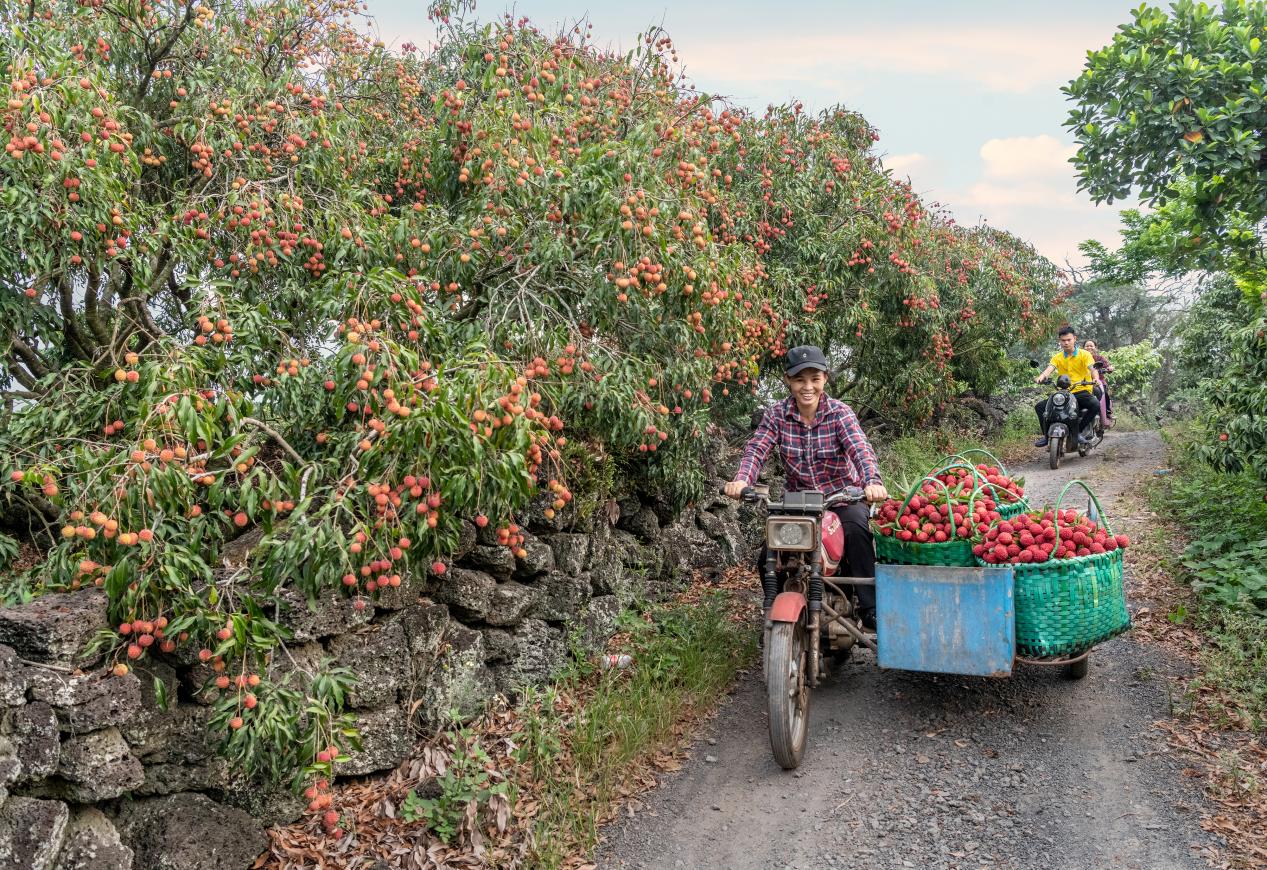 A farmer rides a motorcycle loaded with baskets of lychees in Xiuying district, Haikou city, south China's Hainan Province. (Photo courtesy of the publicity department of the Communist Party of China Xiuying district committee)
It has been reported that the district has introduced 15 major dealers and made advance sales of 3,600 tonnes of lychees so far.
In recent years, Xiuying district has expanded its sales channels for volcano lychees both online and offline, Liu said.
The local government has held sessions to train livestream e-commerce talents and invited experts to give lectures on the subject, and lychee growers have started selling volcano lychees via livestream sessions, Liu explained.
"Customers have become familiar with our volcano lychees through activities held by the government. Many dealers have signed contracts for the fruit with local growers, and over 1,000 tourists have made bookings to pick lychees," said Chen Huaibai.
The official aims to give play to the advantages brought by the Hainan Free Trade Port to introduce lychees to the rest of the world in the future.
Recently, a lychee-themed music festival was held in Yongxing township, which helped boost publicity for Xiuying district's volcano lychees.
Xiuying district must integrate the development of the lychee industry with culture and tourism, said Chen Zheng, head of the district's bureau of agriculture and rural affairs.
"The festival promoted the district's volcano lychees and injected vitality into our city's development," Liu said.
According to Liu, the district has held multiple activities, including lychee blossom watching in spring and lychee picking in summer, to attract tourists. It has also rolled out various tourist routes by tapping into rural tourism resources to further promote rural tourism.
(Web editor: Hongyu, Du Mingming)