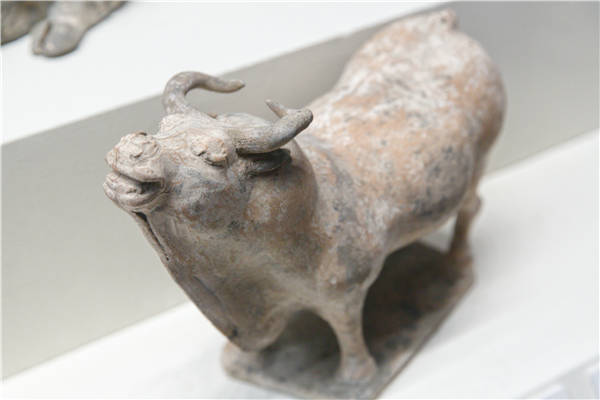 A seventh-century ox pottery figurine. [Photo by Jiang Dong/China Daily]
Wang Xiaowen, the exhibition's assistant curator, says: "Besides symbolizing supremacy and fortune, the ox was also seen as a spiritual animal by people at the time to connect the mortal world with heaven. They believed that after being sacrificed, oxen would deliver people's wishes for harvest and peace to deities.
"This belief is also reflected in the bronze ware of the ancient Dian Kingdom, which flourished more than 2,000 years ago in today's Yunnan province in Southwest China."
Several bronze objects that were excavated from Dian relics sites and ornamented with exquisite ox motifs are on display at the Beijing exhibition.
Wang says while few written documents about the kingdom exist, the bronze objects reflect a booming agriculture and the skilled craftwork shows its developed culture.
The ox also recurs as a subject in the art genre gengzhitu (pictures of tilling and weaving) in ancient China. Complete sets of such paintings depicting activities related to agriculture and sericulture are said to first appear on the imperial court walls of the Northern Song Dynasty (960-1127).
Then, Southern Song Dynasty (1127-1279) scholar Lou Shou produced a set of 45 gengzhitu paintings, each accompanied by verses, which became popular and generated social and cultural influences. The paintings inspired later rulers to order the making of gengzhitu to encourage farming and raising silkworms to produce silk.
The current exhibition shows Qing Dynasty (1644-1911) gengzhitu paintings and porcelain pieces bearing the same motifs, which also featured poems written by emperors Kangxi and Yongzheng. The rulers, father and son, attached great importance to agriculture as the economic pillar of their empire.
The human-ox motif is common in artworks illustrating folk custom and legends such as a scholar riding on an ox or a boy herding an ox in a picturesque landscape of distant mountains. A popular legend about Laozi describes the philosopher going out of the Hangu Pass while seated on the back of an ox. A Ming Dynasty (1368-1644) porcelain vase and a bronze sculpture by contemporary artist Wu Weishan shown at the exhibition both depict the tale.
Also on show is a stone rubbing made between the late fourth century and the early sixth century that points to the trend at the time of rich people traveling by ox-driven carts.
While a modern bride may prefer a car on her wedding day, a painting at the exhibition shows a Ming-era wedding where the bride is being carried by an ox to the groom's house.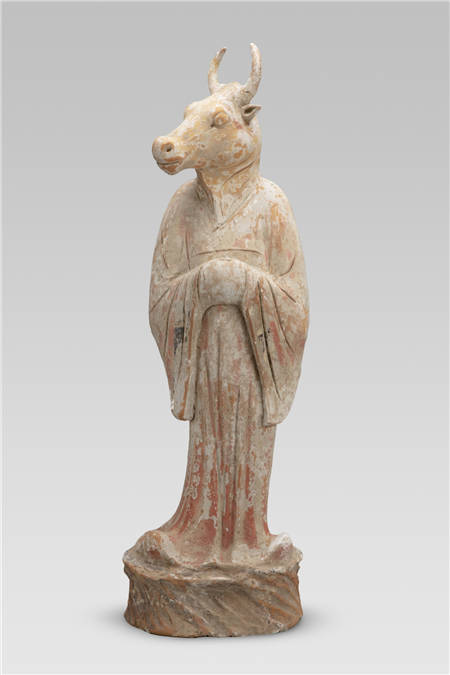 A Tang Dynasty (618-907) pottery figurine featuring an ox head and a human body. [Photo provided to China Daily]
【1】
【2】