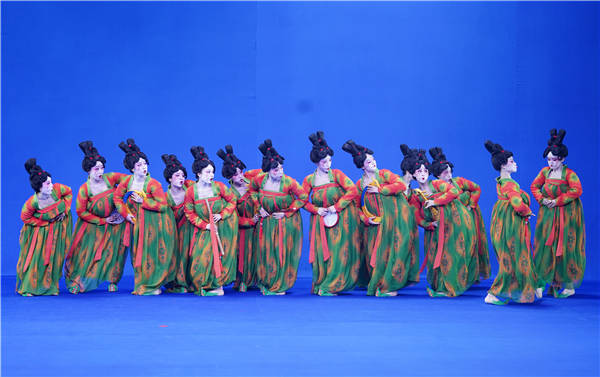 Dancers perform their acclaimed interpretation of A Tang Dynasty Banquet as part of Henan TV's Spring Festival gala. [Photo/Xinhua]
"The women portrayed in Tang Dynasty paintings are full-figured, which indicates good living conditions and wealth. We want to showcase the aesthetic vision of the Tang Dynasty, so we got the dancers to put on makeup and clothes just like the women in the painting.
"I think it stood out because, unlike the traditional beauties we portray in dance pieces, who are surreal, these Tang Dynasty maids we put on stage are closer to real life."
The dancers put cotton balls in their mouths and wore padded clothes to look as full-figured as the ancient women.
Besides the beautiful movements of traditional Chinese dance, the choreographer also designed some moves with a sense of humor, which received positive feedback from viewers.
"We worked very hard on the looks because it's crucial for bringing the characters to life onstage. It was uncomfortable to perform with cotton balls in our mouths in the beginning, but we soon got used to it," says the principal dancer Yi Xingyan of Zhengzhou Song and Dance Theater, who performed in the dance piece.
"From the clothes, headwear and makeup to our dance movements and facial expressions, all the details made our performance successful."
Chen Lei, director of Henan TV Station's Spring Festival gala, says: "It came as a surprise when we learned that the dance won lots of attention and praise. Our goal was to present a show which is fun and warm, and we are glad that we achieved that."
The award-winning choreographer, Chen Lin, who was born and grew up in Zhengzhou, graduated from Beijing Dance Academy and has been working with Zhengzhou Song and Dance Theater since 2009. Her work is inspired by her hometown's folk tales, historic heroes and the iconic Shaolin Temple, the birthplace of Chinese kung fu.
"I like to visit museums in my hometown as many cultural relics, unearthed in Henan, are exhibited there, which also make me imagine the stories behind them," says Chen Lin.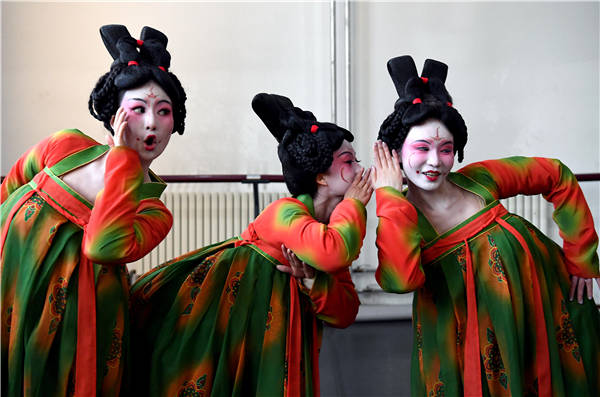 Three of the dancers fully made up and dressed like the women in the original painting. [Photo/Xinhua]
【1】
【2】
【3】