The first 108 Chinese volunteers have recently been injected with an experimental vaccine for the novel coronavirus disease (COVID-19) in the country's first such clinical trial, and entered a 14-day isolation and observation period, Science and Technology Daily reported Monday.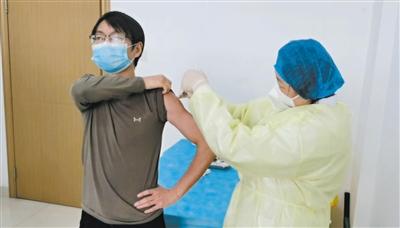 (Photo/Xinhua)
All the volunteers are permanent residents of Wuhan, capital of central China's Hubei province, and also the epicenter of the COVID-19 outbreak.
According to Wuhan Evening News, by March 22, more than 4,667 volunteers had signed up online to take part in the first clinical trial for the COVID-19 vaccine. A total of 108 volunteers were eventually selected for the experiment.
The volunteers have been divided into low-dose, medium-dose and high-dose groups, with 36 people in each group.
Medical teams will pay multiple visits to these volunteers regularly over the next six months to check if they are experiencing any adverse reactions or have produced the antibodies specific to the virus.
The vaccine, which gained official approval for its first clinical trial on March 16, was a recombinant vaccine developed by a research team led by Chen Wei, an academician with the Chinese Academy of Engineering (CAE) and researcher at the Academy of Military Medical Sciences.
Volunteers were required to be healthy adults aged between 18 and 60, and who had not been infected with the novel coronavirus.
Many of the volunteers in the clinical trial had also previously volunteered to help communities with related work during epidemic prevention and control efforts.
"I feel proud and honored," said Da Bai (pseudonym), a college teacher who volunteered to take part in the trial.
"We are all of one mind. We want Wuhan to recover soon," said Da Bai, adding, "No one knows better than medical workers the risks that come from the virus, but they still came to Hubei and Wuhan without hesitation. Now that their mission has been accomplished, it's our turn to fight the virus."
Many young people were among the volunteers, including those from the post-90s and post-2000s generations. When asked about the reasons for their participation in the clinical trials, they gave heart-warming answers, according to the WeChat account of China Youth Daily.
"What's there to be afraid of?" replied a volunteer named Ren Chao when asked whether he was afraid of the consequences of his decision. Ren, a 36-year-old native of Wuhan, had been a compulsory serviceman for two years, and is now a member of the security department at Wuhan University.
"We are all grown-ups. We should keep science in our minds and morality and justice in our hearts," Ren told his friends.
"The whole country is helping Hubei. I feel I owe everyone in our country a huge debt. This time I can finally do something to help," said Ren. In fact, he had joined a volunteer team made up of people with cars who took medical workers to and from work for free, until traffic restrictions were imposed in the city.
"I don't think what I did was so great. The real great people are the scientists and the medical workers who helped Hubei," Ren stressed.
Xiao Tian (pseudonym), a sophomore from Hubei University of Chinese Medicine, said she volunteered because she wanted to repay the country for what it did for her.
According to Xiao Tian, who is from southwest China's Sichuan province and about to turn 20, she will be able to enjoy a college education because of the national student loan and the national encouragement scholarship.
"I just did something I was able to do," said Xiao Tian, explaining that she wants to take part in more volunteer or public welfare work after the isolation period ends.
Qin Yuanyuan, a 19-year-old freshman from the Hubei University of Technology, was the youngest of all the volunteers.
"During this epidemic, so many post-90s medical workers have been fighting the virus on the front line. They gave full play to their youth where they were needed the most by the Party and the people. As a college student, I can also do my part," Qin said.
Qin's parents are both volunteers who have been busy helping with related work in their community. They were initially surprised by their daughter's decision to become a volunteer for the vaccine trials. But after reading materials online and getting information from doctors, they were finally reassured and agreed with Qin's decision.
"You have grown up. We are proud of you," Qin's parents told her.
When Qin went for her physical examination on March 21, she met her classmate Yang Fangfei. The two young women were surprised to see each other and thought they were both very courageous.
Many netizens thanked the 108 heroes for bravely stepping forward, with some saying, "Wuhan is a heroic city. It's natural that heroes are courageously coming forward."