A 90-year-old novel coronavirus patient surnamed Liu was discharged from the First Affiliated Hospital of Nanchang University in Nanchang, east China's Jiangxi province on Thursday, becoming the oldest patient in the province to recover.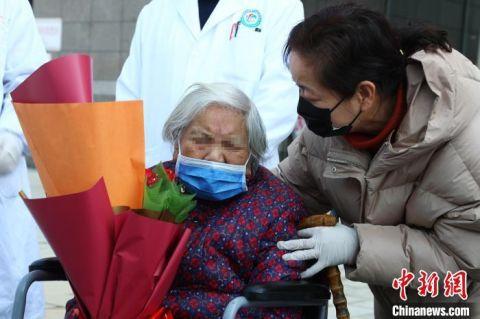 (Photo/Chinanews.com)
The woman was diagnosed with novel coronavirus pneumonia on Jan. 29 after her grandson had come into contact with people who had returned from Wuhan, epicenter of the epidemic in central China's Hubei province, according to Zhou Congyang, deputy director of the hospital's emergency department.
The patient met the recovery standards after treatment, Zhou said, adding that it's difficult to treat the elderly, who usually suffer from underlying diseases and are more susceptible to coronavirus infection.
A 90-year-old novel coronavirus patient surnamed Liu is discharged from the First Affiliated Hospital of Nanchang University in Nanchang, east China's Jiangxi province, on Feb. 20, becoming the oldest patient in the province to make a recovery. (Photo Liu Zhankun/Chinanews.com)