China's domestically developed advanced equipment and technologies have been deployed to join the battle against the COVID-19 outbreak.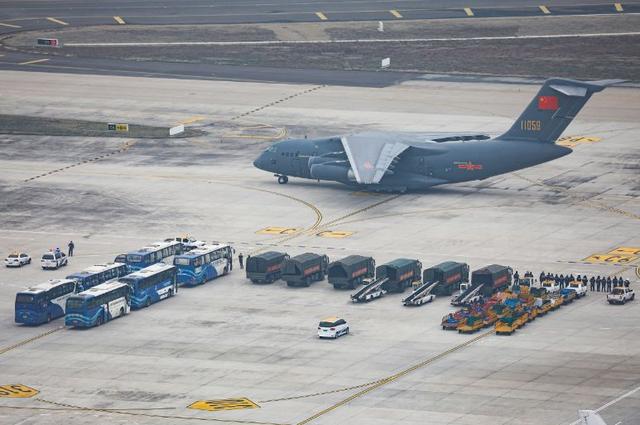 Y-20 large transport aircraft (Photo/China Pictorial)
11 transport aircraft of the People's Liberation Army Air Force, including six Y-20 large transport aircraft, sent medics and supplies to virus-hit Wuhan, capital of central China's Hubei province, on Feb. 13.
This was the first time the Y-20 has been used in non-military action. It was also the first time for the Air Force to send large and medium transport aircraft on active service to carry out urgent air transport tasks on a large scale.
The previous day, two self-developed Z-8 transport helicopters sent four tons of emergency medical supplies to coronavirus-hit cities near Wuhan, including Xiangyang and Yichang.
Drones have emerged as efficient tools in the fight against the epidemic. Qianxun Spatial Intelligence Inc., a company that uses China's homegrown BeiDou Navigation Satellite System for location and data analysis services, launched a program to support drones in taking up tasks to contain the virus on Feb. 10.
Drones can perform tasks including spraying disinfectant liquid and delivering supplies. The first batch of drones for this purpose delivered 70kg of emergency medical supplies to Wuhan Jinyintan Hospital, a major hospital designated to admit confirmed cases in the city, on Feb. 13.
China's self-developed 5G technology is also playing a unique role in the battle against the epidemic. The country's three telecom giants, China Telecom, China Mobile and China Unicom, have rolled out 5G-powered telemedicine systems, or inspection robots, that can measure people's body temperature at hospitals.
In addition, China's self-developed "mobile hospital" vehicles, negative pressure ambulances and the latest medical waste incinerators have been put into use in Wuhan.
Infrared fever screening systems used for checking people's body temperature and 3D-printed medical goggles have also been used in the prevention and control of COVID-19.