Supplies of daily necessities across China could basically meet consumers' needs as of Feb. 12, according to data.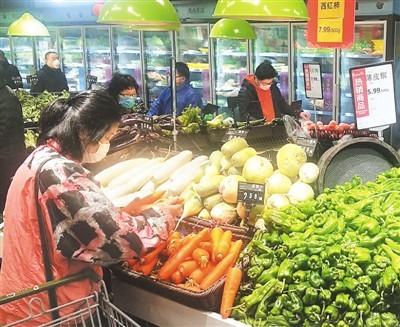 Consumers buy vegetables in a supermarket in Shanghai. (Photo/Gao Weifeng)
The retail prices of rice, noodles and oil in 36 large and medium-sized cities are basically the same as before the Spring Festival.
While the price of pork rose slightly and then stabilized, egg prices continued to drop. 15 types of vegetables saw a decrease of about 10 percent in their prices compared with the end of January.
By Feb. 10, 94.6 percent of the companies engaged in food manufacturing and processing resumed operations, furthering guaranteeing food supply.
Haitong Food Group, which mainly produces pastries and processes broccoli, recently started operations again. While encouraging staff members at management-level to help with production, it also required employees to wear masks and protective clothing to ensure their safety during the process. The company now processes about 20 tons of broccoli daily.
Besides production, better logistics has also helped maintain food supply. The Ministry of Transport has opened up green channels for vehicles that transport daily necessities. Drivers can get a pass for their vehicles on site in just a few minutes.