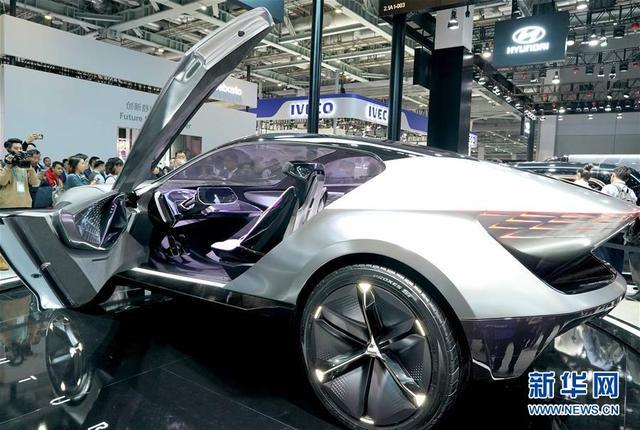 Visitors watch a car exhibited at the second CIIE. (Photo/Xinhua)
New energy technologies and products were stars at the automobile exhibition section of the second China International Import Expo (CIIE) where global carmakers competed with their own "green" solutions to reduce carbon emission during new energy production, storage and consumption.
Hydrogen energy was what Japanese and South Korean enterprises staged, and huge numbers of visitors flocked into the exhibition booth of Hyundai, attracted by the company's hydrogen battery-fueled conception truck. The company said that the truck will be able to be charged full in just minutes.
Toyota presented its idea of building a hydrogen energy-based society, and displayed the phased achievements of its cooperation with Chinese universities in hydrogen battery research and development of commercial hydrogen vehicles.
Niu Yu, an employee from the marketing department of Toyota Motor (China) Investment Co., Ltd., noted that hydrogen battery-fueled vehicles can not only realize "zero emissions" of carbon dioxide, but can also absorb and filter particulates in the air, thus helping improve air quality.
At the China Automotive Industry Development Forum held on Nov. 7, a high-standard supporting activity of the second CIIE, Volvo said it would reduce 40 percent of carbon emissions for all vehicles it produces by 2025, calling it one of the company's most ambitious plans for sustainable development.
Arthur Yu, vice global president of Jaguar Land Rover China, noted that the resolution of each country to lower carbon emissions has raised huge challenges for car manufacturers. That's because for carmakers, setting the goal of "carbon neutral" means they have to optimize everything from energy supply, manufacturing to exhaust.
At this year's CIIE, all of the exhibiting vehicles of Volkswagen were powered by new energy. According to Stephan Wöllenstein, CEO of Volkswagen Group China, taking 2015 statistics as the criteria, the company plans to reduce 30 percent of waste, energy consumption, water consumption and carbon dioxide emission during production over the next 10 years. Besides, pure electric vehicles will account for 35 percent of the company's product line by that time.