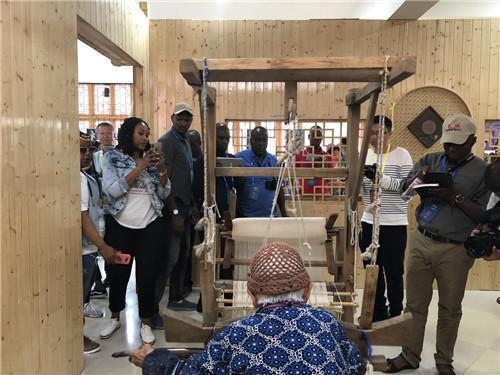 Foreign journalists visit a craftsmanship and culture exchange center in Zhijin county, Bijie city, southwest China's Guizhou province. (Photo/Guo Zhiqiang)
Journalists from around the world were impressed by the poverty alleviation accomplishments that have been made in Guizhou when they paid a visit to the southwestern province on Sept. 21, as part of a media workshop for the Belt and Road News Network (BRNN), China Economic Weekly reported.
Wax printing, a form of local craftsmanship in Guizhou, is one of many tools being used for poverty reduction. Cai Qun, a lady known as a wax printing master, became well-off through making wax printing products. Cai has expanded her business from a workshop having less than 20 people to a company with 300 employees. Her company's products, including wallets, backpacks, and shawls, were sold to the U.S., South Korea and Malaysia, generating more than 1 million yuan in sales value per year.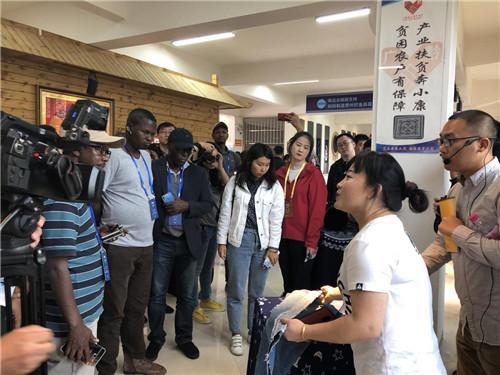 Cai Qun, a female inheritor of Miao wax printing, introduces wax printing and embroidery products to foreign journalists. (Photo/Guo Zhiqiang)
Guizhou has made remarkable achievements in poverty eradication in recent years. From 2015 to 2018, the province's impoverished population was reduced from 6.23 million to 1.55 million. In 2018 alone, 1.48 million people were lifted out of poverty, the poverty incidence rate dropped to 4.3 percent, and nearly 2 million people were relocated from the mountains.
In 2018, Guizhou's economy grew by 9.1 percent. That growth ranked first in the country for two consecutive years.
More than 50 senior journalists from 46 media outlets from 26 Latin American and African countries participated in the media workshop, which kicked off on Sept.16.