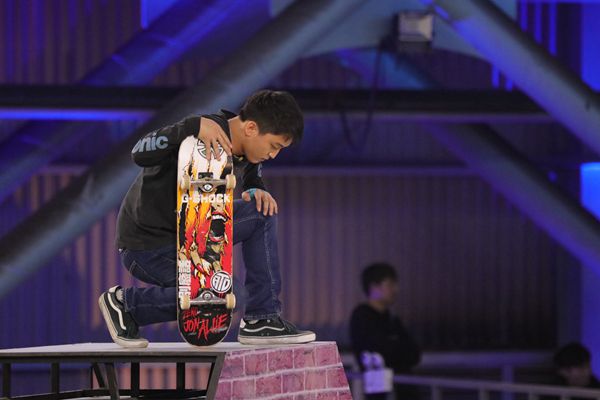 Liu Jiaming, 23, a promising skateboarder prepares to "drop in" to a 3-meter jump in a recent reality show, One More Try.[Photo provided to China Daily]
Skateboarding is thriving now, but it's taken the hard work of dedicated and bruised practitioners to build up momentum, Xing Wen reports.
A low rumble, punctuated by the rhythmic "click, click, click" caused by the grouting between paving slabs. A scrape, a sharp "CLACK", silence, and a clatter, followed by the return of that monotonous rumble… It's a soundtrack heard on nearly every street in almost every corner of the world.
It is the music of defiance and rebellion, of freedom and youth. It's a song that parents hate and that evokes dollar signs in the minds of osteopathic doctors.
Yet, in Tokyo next year, it will be one of the loudest played pieces in the concerto of the Summer Olympics. Skateboarding has finally arrived on the biggest stage in the world-and China is looking for a front-row seat.
These days, young people skateboarding wherever the street furniture forms ramps, bumps, rails and ledges may be common-along with hearing slang terms like "lock in" and "drop in"-but, the development of skating culture in China is a 30-year story.
【1】
【2】
【3】
【4】
【5】
【6】
【7】
【8】
【9】