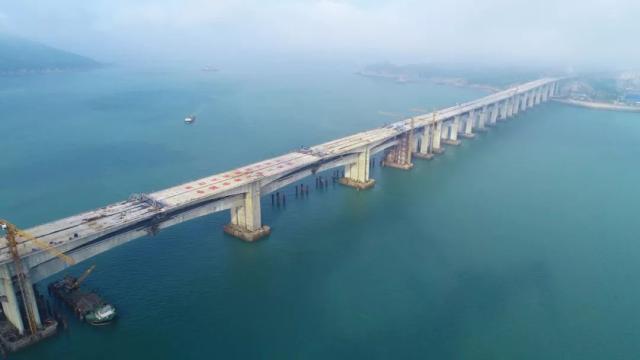 (Photo/WeChat account of the State-owned Assets Supervision and Administration Commission of the State Council)
Construction of the major structure on the Pingtan section of the Pingtan Haixia Rail-Road Bridge was completed on July 17 as workers joined two sections.
The Pingtan Haixia Rail-Road Bridge is China's first cross-sea rail-road bridge. The 16.3-km line connects Fuzhou, the capital city of east China's Fujian province with the island city of Pingtan off the coast of the Taiwan Strait.
The bridge has two layers. The upper level carries a six-lane highway, and the lower level is a double-track railway.
The harsh meteorological, hydrological and geological conditions make it tough to build a bridge over the water. For example, heavy winds hit the area about 300 days of the year, according to a staff member of the bridge-building bureau of China Railway Construction Co., the contractor of the bridge.
The engineers initiated multiple construction techniques, such as building a platform on the water to create more space for relevant construction.
They adopted a domestically developed pile driver to drive the pillars firmly into the ground beneath the water. The machine is equipped with a GPS device, with a positioning accuracy of within two centimeters.
The bridge is scheduled to open to traffic in 2020. Pingtan is the nearest mainland jurisdiction to Taiwan, with only 68 sea miles to Taiwan's Hsinchu city.