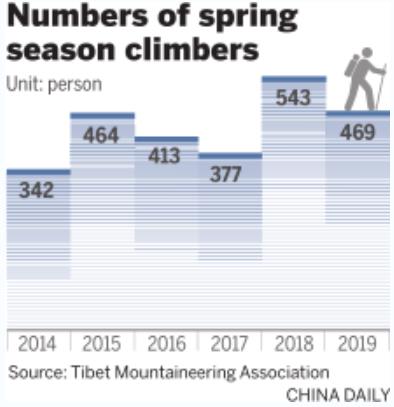 Numbers of spring season climbers. [Photo/China Daily]
According to the region's mountaineering record-keeping, more than 300 climbers reached Qomolangma's summit over the past six decades, and over 2,300 reached the summits of peaks above 8,000 meters. The region's mountaineering team has hosted over 20,000 climbers, including international mountaineers from 40 countries, in the past eight years.
The region has been making big efforts to prevent pollution and damage brought by mountaineering. Since 2017, regular large-scale cleanup activities have been carried out during the climbing seasons.
The autonomous region carried out three large-scale trash collection projects last year, gathering 8.4 metric tons of various mountaineering-related trash left on the mountain.
"We organize an environmental protection team and local people to carry out the cleanup work in the areas between altitudes of 5,200 meters and 6,500 meters," Sonam said.
He said the climbers and mountain guides are required to bring back their own trash in areas above 6,500 meters, and each climber is required to retrieve 8 kilograms of trash.
"If climbers cannot meet the 8 kilogram requirement, they will be fined and those who bring more will be rewarded," he said.
"Starting this year, we will not allow individual climbers because more than 80 percent of the region's mountaineering accidents have occurred with individual climbers," he added.
The region has five mountains above 8,000 meters, more than 70 above 7,000 meters, and over 1,000 above 6,000 meters.
Only 46 peaks are open to mountaineers, and the removal of rubbish is required whenever a climb takes place.
【1】
【2】