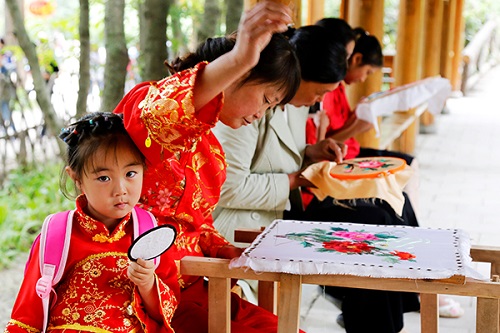 Women in Baoji village of Xihe county, Gansu province, embroider in their spare time to cover some family expenses. [Photo provided to China Daily]
"Pray, Lady Qiao, come to Earth this day. Teach me embroidery and how to sew… wisdom, joy and ingenuity, do on me bestow."
In Xihe county of Longnan city, Gansu province, these lyrics are well known to women. The county is one of 189 in China designated as poverty stricken, in which 223 out of 384 villages are deeply impoverished.
Xihe county is at the upper reaches of the Jialing River, south of the West Qinling Mountains, and as well as having its roots in farming is also known for its scenic beauty.
For centuries, women there have been highly skilled in needlework. Legend has it that they were tutored by none other than Lady Qiao, also known as the "weaver maid", and who was said to be the youngest daughter of China's folkloric Queen Mother.
Lady Qiao (qiao means ingenuity) was endowed, it is said, with not only good looks but also noble righteousness, and was a magnificent embroiderer.
So local girls and young women worship her, and in the week leading to the seventh day of the seventh month-according to the Chinese lunar calendar-they celebrate by singing, dancing and praying in a tradition called qiqiao (asking for ingenuity) that can be traced back to before the Qin Dynasty (221-206 BC).
Today, these young women are drawing on their wisdom and ingenuity to gain the power to build their own embroidery brands, thus improving their lives and helping to lift their county out of poverty.
Zhang Qin, 43, a respected embroiderer in the Daliu village of the county who founded the local embroidery association, Qiqiao Workshop, says: "Women around here are good at needlework, and I'm particularly interested in it. When I was a kid, I liked watching and learning as the women were sewing."
She made her first "bucket of gold" when she was 8, she says.
"I sewed 10 pillowslips and sold them for 4 yuan ($0.6). At the time my family was too poor even to buy me new clothes, so I bought a large piece of red cloth and made myself a new undercoat with the money."
Zhang gradually gained a reputation for her exquisite work, and women in the village often went to her for guidance.
【1】
【2】