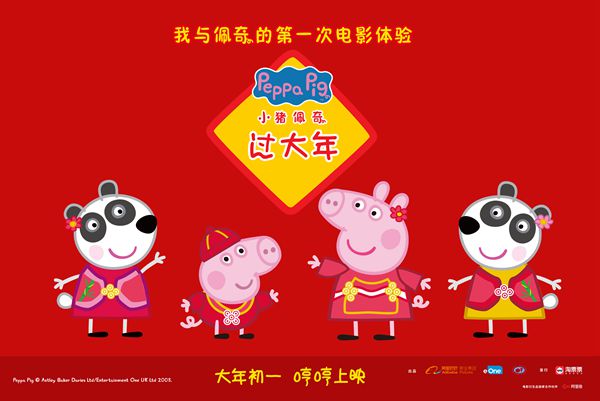 The beloved cartoon character Peppa Pig has once again caused an online frenzy in China, after a promo video for the pig's upcoming Spring Festival movie was released on Thursday, touching the hearts of Chinese viewers.
Directed by Chinese artist Zhang Dapeng, the promo video was named "What is Peppa." The movie follows the story of a 3-year-old boy and his grandpa who live in the countryside. The video highlights many cultural aspects of the Spring Festival, including a reunion dinner, dragon parade and fireworks.
In the video, the boy tells his grandpa that he wants a "Peppa" as his Spring Festival gift. Having no idea what a "Peppa" is, the grandpa embarks on a journey to find the pink piggy. He mistakes Peppa for different things including shampoo and a chess game. Eventually, with the help of his neighbor, he manages to make a Peppa toy based on his imagination, fulfilling his grandson's new year wish.
The video was posted on Peppa Pig Movie's official Sina Weibo page on Thursday, garnering over 22 million views in 20 hours. The hashtag "WhatIsPeppa" received over 130 million page views, with over 200,000 people leaving comments.
Peppa toy made by the grandpa.
"I laughed so hard when the grandpa made hilarious mistakes, but in the end, I was close to tears because of his deep love for his grandson. It reminds me of my grandpa, and I want to spend Spring Festival with him just like the movie," wrote one internet user.
Featuring the Chinese Spring Festival, the Peppa Pig movie was co-produced by Alibaba and Canadian media company Entertainment One. It will hit Chinese screens on Feb. 5, 2019, the first day of the Chinese Lunar New Year, which is also the first day of the Chinese Zodiac's Year of the Pig.