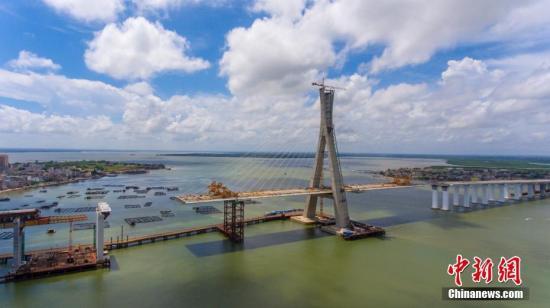 The Hainan Island (Chinanews.com/Luo Yunfei)
China's 12th FTZ in Hainan will explore new horizons of opening up through institutional innovation on the basis of experiences from other FTZs in the country, as well as the province's own distinguished features, said a senior official from Hainan province.
In 2018, China unveiled a detailed plan to establish Southern China's Hainan province as a free trade zone (FTZ), and ultimately, a free trade port.
A significant feature of the Hainan FTZ is that the zone is an island spanning more than 35,000 square kilometers, including both developed and less developed areas, while the other 11 FTZs are each around 120 square kilometers in size. This demonstrates China's resolution to further open up, said Sun Dahai, Deputy Secretary General of the Communist Party of China Hainan Provincial Committee.
Focusing on institutional innovation, the Hainan FTZ has stepped up efforts to provide a law-based, international and efficient business environment, and build it into a pilot zone for comprehensively deepened reform and opening up since April 2018.
The province has basically established a "single window" administrative system to facilitate international trade, by which business entities can operate the customs declaration of seven basic businesses for free as of Dec. 1, 2018, thus lowering customs clearance costs. A free trade account system was also implemented on Jan. 1, 2019, providing enterprises a cheaper overseas financing channel.
Another of the Zone's priorities is to break new ground in opening up through industrial innovation. Hainan will focus on the development of tourism, modern services and high-tech products to build the island into a pilot zone for China's ecological progress, and also an international tourism and consumption center, noted Sun.
China's first international medical tourism hub, Hainan Boao Lecheng International Medical Tourism Pilot Zone, was also launched. Nine preferential policies lowered import tariffs on medical equipment and drugs.
On May 1, 2018, Hainan waived visa requirements for tourists from 59 countries. Total inbound arrivals had exceeded one million by the end of November 2018, a year-on-year increase of 16.6 percent.
Thanks to the recently implemented duty-free policy in the province, both tourists and local residents now enjoy the average annual duty-free spending of 30,000 yuan per person. Consumption during the new year holiday in 2019 reached 129 million yuan, a growth of 19.44 percent year on year.
China continues to put forward policies and institutions to help build a free trade port in Hainan in a phased manner, so as to speed up exploration of the development of free trade ports with distinct Chinese features. It's expected that Hainan will become a key gateway to the Pacific and India Oceans in the future.