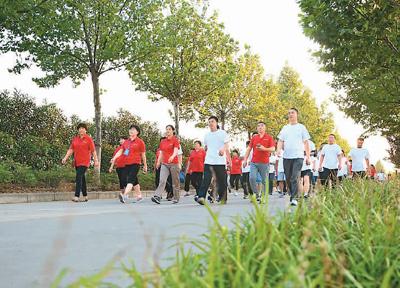 Local residents take part in a charity activity in Yiyang county, Henan province. (file photo)
25-year-old Wang Qi starts his day by collecting "green energy" on an Ant Forest, a green finance model of Ant Financial. The energy was generated by his activities the day before such as walking instead of driving, paying for utilities and buying tickets online, taking public transport and so on.
Ten years ago, people made donations via remittance and bank transfer services, or through organized donation events. Nowadays, driven by the Internet, the forms of charity in China has become more diversified.
In September 2017, Tencent's charity platform collected more than 12 million yuan from 5.78 million people within 15 hours, for mentally and intellectually disabled children, as well as those affected by autism. Each donor was given an electronic picture drawn by these children after donating one yuan to them.
Public charity allows more people to take part in charity activities more deeply and covers a wider range of people who receive help, such as senior citizens in a family without children around, dropout students, people with severe diseases, and low-income families in rural areas, as well as disabled people.
According to statistics, about 2.6 billion yuan in charity donations were collected through 12 platforms in China throughout 2017.
Recognizing that Internet fundraising is popular but also an easy platform for fraud, the country has enacted laws and regulations to strengthen supervision over the sector. The regulations stipulate that groups or individuals raising funds from the public have to first obtain a license and get registered from the civil departments.
The Charity Law, enacted in 2016, says that the annual management fee of fundraising groups must be kept below 10 percent of their yearly total expenditures. To make public fundraising more transparent, the country launched a website for donors to check information on fundraising activities.
A 2017 report on China's Internet charity development released in September 2018 indicated that people's public welfare behaviors are highly integrated with Internet activities and technologies. Experts believe that charitable donations have become regular activities nowadays, and that donation activities are visualized and assistance has become more targeted.