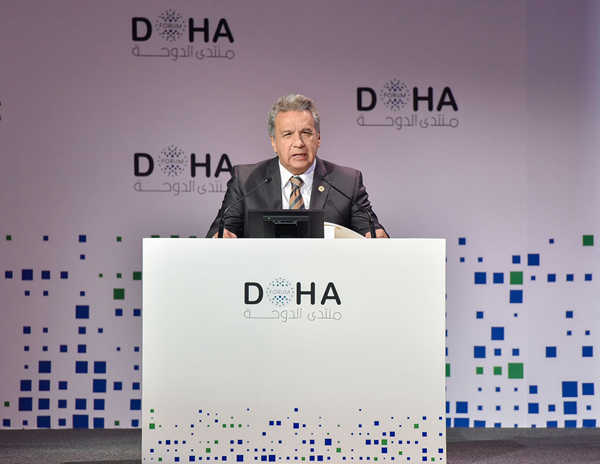 President of Ecuador Lenin Moreno Garces gives a speech at the opening session. (Photo via Doha Forum)
The Doha Forum 2018 opened on Dec. 15 in Doha, Qatar, with policymakers, business leaders, and academics from around the world arriving to discuss some of the most pressing challenges the world faces today.
"Dialogue is what bridges the gap between adversaries, no matter how intense the differences are, it is the point of inception and the point of conclusion in this difficult time," said Sheikh Tamim bin Hamad Al Thani, Emir of Qatar, in his inaugural speech.
In his speech, the President of Ecuador, Lenin Moreno Garces, explained that the Doha Forum is a global platform to achieve the most ambitious goals in the modern world and to launch an effective global dialogue among all people on possible challenges ahead.
The 18th edition of the Doha Forum serves as a platform to discuss the subject "shaping policy in an interconnected world," and it focuses on four themes: security, peace and mediation, economic development and trends and transitions.
Established in 2000, the Doha Forum is a platform for global dialogue on critical challenges facing the world. It is a forward-looking platform for policymakers to discuss how to enhance and optimize working together on problems from different perspectives, expertise, countries and organizations.