Photo taken on April 3, 2018 shows ice formed in the wind around Ulunggur Lake in Fuhai County, northwest China's Xinjiang Uygur Autonomous Region.
As a Han from Xinjiang, one of the questions I'm most frequently asked is "Why don't you look like a Xinjinger?" It never occurs to those asking that there are 47 nationalities in Xinjiang, and the Han People account for 40 percent of Xinjiang's whole population. Some stranger questions I have been asked include "Do you ride a horse to school?" and "Do you eat raw meat?"
Once a doctor from Kashgar in Xinjiang complained that while she was in Beijing, she was approached by a total stranger, who asked in a condescending tone if she was a street vendor selling lamb kebabs.
As for my friends in Shanghai, one of their main concerns is whether it's safe to travel in Xinjiang, as their impression is that it's both attractive and formidable.
In 2016, a video named "I'm from Xinjiang" went viral online, directed and produced by Kuerban Saimaiti, a member of a minority in Xinjiang. In his video, Kuerban introduced people from Xinjiang who lived and worked in other Chinese provinces, including famous TV stars such as Tong Liya and Li Yapeng, with the aim of clearing up any misunderstanding from people who had never visited the region. He wanted to show the world that Xinjiang is not as underdeveloped as many people think, and as Xinjiangers, we have our dreams, passions and careers, just like people in any other part of China.
Aerial photo shows a view of the moon bay in the Kanas scenic area in northwest China's Xinjiang Uygur Autonomous Region.
With the Belt and Road Initiative alongside the closing of the 18th Shanghai Cooperation Organization Summit, Xinjiang has once again become an inseparable part of the national strategy in economic development and anti-terrorism.
The region, located in the northwest of China, is the largest administrative region in the country, covering an area of about 1.6 million square kilometers, taking up one sixth of the country's territory. Its border stretches more than 5,600 kilometers, neighboring eight countries from north to south, covering northern, eastern and southern Asia.
It's perhaps one of the most diversified regions in China, with its mix of ethnic languages and culture standing in sharp contrast with eastern and central regions of China. Not only can you appreciate deserts and snow capped mountains, which are the usual media representations of Xinjiang, but also forests, lakes, glaciers and grasslands.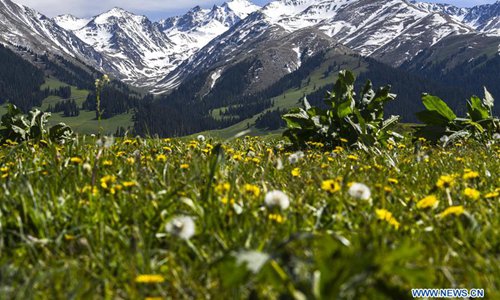 Photo taken on the Narat grassland shows the snow-covered mountains in Xinyuan County, northwest China's Xinjiang Uygur Autonomous Region.
There are 47 nationalities in Xinjiang, 13 of whom are indigenous; Han, Uygur, Kazak, Hui, Khalkhas, Mongol, Xibe, Uzbek, Manchu, Daur, Russian and Tarar. They speak different languages and hold different beliefs. Therefore, Xinjiang has, since ancient times, been a melting pot of different ethnic groups, cultures and religions.
Though taking up so much of China's territory, the region remains a mysterious and distant place for most people despite the fact that communication and transportation today is better than ever.
Throughout China's history, Xinjiang has always opened its doors to those seeking the opportunity of a better life.
In 1959, a five year-old boy, along with his mother and elder brother, stepped onto a train heading westwards, to reunite with his father, who had been living in Xinjiang for three years.
His father was a veteran from the Huaihai Campaign, one of the three most important campaigns during China's War of Liberation (1945-1949), and the former leader of the local government in Pingdu. He wrote to his wife that Xinjiang was abundant in resources and they would enjoy a promising future there. Never had the family travelled so far before and the trip would be long and tiring, but they knew that it was their chance to start a new life together.
After a week's train trip to Gansu province they took a truck to Urumqi, the capital of Xinjiang, staying with one of their relatives for a month. They passed the Sayram Lake and Guozigou Mountains in Yili (a region lying in the northwestern part of Xinjiang, known for its abundant rainfall), amazed by the spectacular scenery around them. They finally settled in Khorgos port, the biggest land port bordering the Soviet Union, which is today Kazakhstan.
With a booming trade between the two countries, the local administrative bureau would often throw banquets for foreign guests; attendees even getting the chance to watch performances from the National Ballet of China.
As for the family, Xinjiang protected them, fed them and nurtured them, so they could go on to lead a peaceful life.
The woman and her husband are my grandparents; the little boy is my father. As the third generation growing up in Xinjiang, not only am I blessed with snow-capped mountains, endless forests and grassland, which is a world away from other parts of China geographically, but I am also immersed in a more inclusive and diversified culture, which absorbs lifestyles of different ethnic groups and extends open arms to people from all over the country.
I am inspired by the perseverance and pioneering spirit of my predecessors, who, with raised spirits, helped "carve a path" for their future children and grandchildren, and made a huge contribution to the development and construction of Xinjiang.
I'm proud to be a Xinjianger!