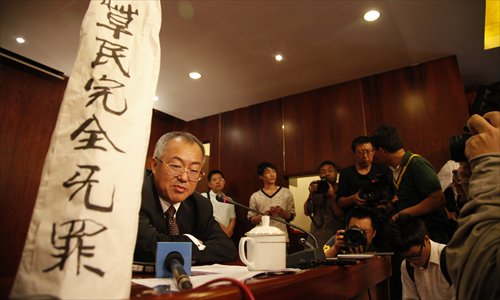 Gu Chujun appears at a press conference on May 22, 2013. The banner placed beside Gu says "I am innocent."
China's Supreme People's Court (SPC) on Thursday announced its retrial in three cases related to former business tycoons, a move that has been hailed by media outlets and law experts as the country's latest legal action to protect property rights of private entities.
The cases, which involve Gu Chujun and Zhang Wenzhong, respectively former chairman of an electrical appliances manufacturer and a retailer, will be heard by the top court or its circuit court. The SPC said it would form collegiate benches for the two cases, pledging fair and just trials with a responsible attitude for the law, the people, and history.
Gu was arrested in September 2005, when he was chairman of Kelon, on suspicion of fraud and embezzlement. He was convicted of falsifying and withholding information and embezzlement and was sentenced to 10 years in jail and was also fined 6.8 million yuan in 2008. While in a separate case, Zhang was sentenced to 12 years in prison for fraud, embezzlement, and a bribe-related crime in 2009. Both men have claimed themselves as innocent and unfairly-treated, petitioning for impartial retrials.
"I've done nothing wrong that is against the law. I want to show my gratitude to the Party Central Committee for stepping up the country's law-based governance," Gu was quoted as saying by news portal Yicai.com.
Liu Huizhi, a Beijing-based law expert, told People's Daily Online that such retrials are quite rare, as serious criminal cases like Gu's have already been thoroughly studied and investigated in two former instances.
According to China's Criminal Procedure Law, a retrial may be granted when new evidence to prove that the determination of the facts or written order is wrong or the evidence upon which the conviction was made is unreliable.
"The Criminal Procedure Law stipulates that the retrial should be completed within 6 months, so it's still early to say whether the original judgments are reliable or not. Nonetheless, the Court's decision shows that the country is determined to protect property rights, especially when private property is infringed by public power," Liu added.
Major media outlets have welcomed the retrials. People's Daily issued a commentary on Friday, noting that the legal move would enhance people's sense of security in property and wealth, as well as create a rule-by-law environment that is fair, impartial, transparent, and stable.
Xinhua News Agency has also echoed the proposition, noting in its commentary on Friday that the property right system is the cornerstone of the socialist market economy, and the protection of property rights is an inevitable requirement of persistence in the socialist basic economic system.
According to statistics from Xinhua, private investment now accounts for 60 percent of China's total investment, and has created 80 percent of jobs. With the rise of private economic entities, the country has been making great efforts to tackle infringement of property rights in the private sector.
China released its first national-level guideline on the protection of property rights in November 2016, in which the protection of non-public properties was raised as a priority, while property right cases that remain unresolved due to historical reasons should be dealt with appropriately.