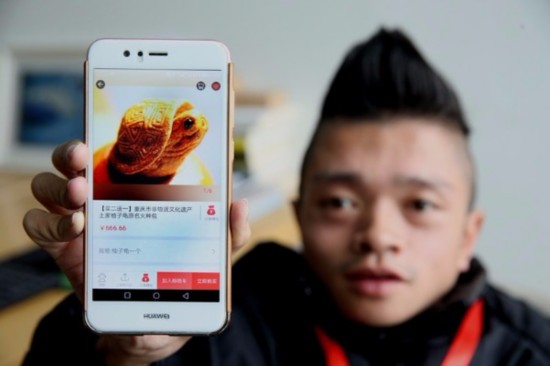 Yang Changguo shows an app developed by his company. [Photo provided to chinadaily.com.cn]
Yang Changguo, 32, is only about one-meter-tall and weighs 25 kg as he suffers from polio. But thanks to his perseverance and diligence, he is now the vice-president of an e-commerce company in Southwest China's Chongqing.
He cannot walk on his feet but uses a wooden block to help him move. The 500 meters between his home and the company takes him 30 minutes to cover.
Born into a farmer's family in Youyang county, Yang was unable to attend school until 20 because of polio. It took him three years to finish the primary school and one year for the junior high school.
Though living in a remote mountain village, the internet introduced him to a whole new world and he became passionate about the online space. His screen name is "one-meter strong man".
With the financial help from the family, he opened an internet cafe in the nearby town in 2008 and another one later. Yang made his first money from the two cafes.
In 2016, he closed them down and tried different businesses, such as opening a restaurant and a shoe shop. After failures in those fields, Yang went to e-commerce training class organized by Youyang county government.
He soon set up his online shop at Taobao.com selling local agricultural specialties, such as dried bamboo shoots, dried wild fish and shrimp. Soon his shop "one-meter strong man" became one of the most famous specialty online shops in Chongqing.
"I want to make 'one-meter strong man' a well-known brand in Chongqing," he said.
Yang's success story in e-commerce attracted attention of Bai Jie, president of Chongqing Youke Shangpin E-commerce Co. She invited Yang to become one of the six stake holders and the vice-president of the company.
At the company, Yang is in charge of the sales of agricultural products and running a special section helping the special-needs people use e-commerce to make a living. He trains them and helps them draft business plans.
He has not forgotten his peers living in the village in poverty.
"I hope I can use e-commerce to help them get rich," he said.
【1】
【2】
【3】
【4】