(File photo)
As the well-known Chinese saying goes, "He who doesn't reach the Great Wall is not a true man." However, some tourists seem to also believe, "He who doesn't write on the Great Wall is not a true man who once reached the spot."
Photos taken showing multilingual graffiti on China's Great Wall bricks have recently sparked heated discussions online. Chinese characters, Korean and English letters can be clearly recognized from the photos. Many netizens have urged such behavior to be severely punished and suggested to set up multilingual warning signs.
(File photo)
In fact, graffiti damage on Great Wall is nothing new. Knives, chalks, and paints are said to be popular tools for visitors determined to leave potentially irreversible marks on the wall's bricks.
Apart from Chinese tourists, foreign visitors, and even celebrities, have been accused of taking part in the Great Wall graffiti craze. In 2016, NBA star Bobby Brown posted a picture of his own signature scratched on the Great Wall, evoking angry criticism from netizens. Brown later publicly apologized for his wrongdoing, saying he "didn't mean any harm by this."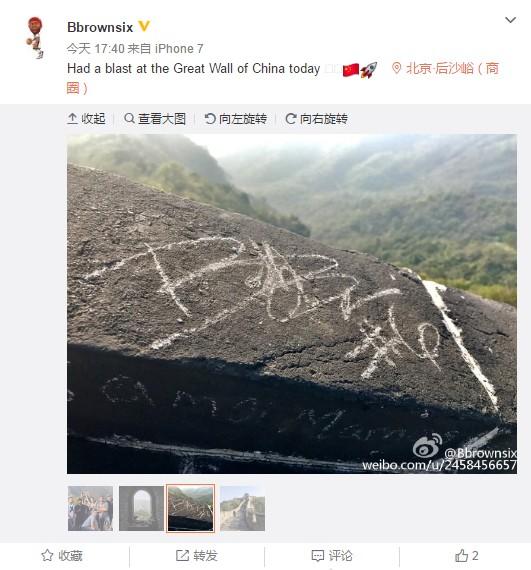 (Photo/Weibo)
To prevent further defacement of the Great Wall, regular patrols are now conducted every day, the management of Great Wall at Badaling section told Chinanews.com. Over 100 people currently patrol the landmark. Nevertheless, because of the huge amount of visitors, especially during the peak summer holiday, it is difficult for the patrollers to detect every act of vandalism.
According to a regulation issued by the Beijing municipal government in 2003 aimed at protecting the Great Wall, anyone who damages the Great Wall will be fined 200 to 500 yuan (about $30 to $75). Some say the penalty, which was set 14 years ago, is not enough to deter people.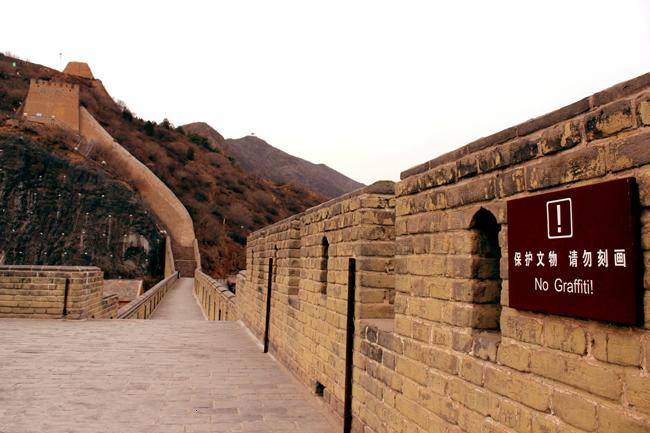 (File photo)
Chinese historic relics are not alone in facing vandalism, but other countries have strong measures in place to protect their national heritages. For example, it is reported that Egyptian authorities will fine up to $100,000 or give a life sentence if someone sabotages their ancient temples or statues. In Mexico, people who conduct illegal archaeological excavation and construction can face up to 12 years of imprisonment.
A lot of efforts have been made to change the uncivilized behavior, but enhancing people's awareness of cultural protection might be the ultimate solution, commented China Youth Daily.
Will China's most famous landmark continue to suffer from more carvings like "John was here" or "Xiaohong and Xiaoming forever?"