As Jane Austen revealed in her novel Pride and Prejudice, "A single man in possession of a good fortune must be in want of a wife." Young people's desire of seeking a loving spouse may hold true universally, but the solemn task of getting married is proving to be a vexing preposition for rich and poor alike in modern China, as the price for tying the knot has become unaffordable and irrational.
"Love is probably the last thing my parents would consider when trying to arrange a blind date for me. His income, birthplace, household registration (hukou) location, even his zodiac sign are more important for a marriage," said Pu Rong, a 28-year-old employee at a foreign embassy in Beijing.
"I feel tired and confused, as I have no idea what is more important for a marriage. Money or affection?" she added.
Pu is not the only one who sees partner-seeking as an unbearable burden. Decades of rapid economic development has reshaped the landscape of marriage in China. Now, both society and parents put greater pressure on love birds seeking to build their own nest.
According to a July report by news.ifeng.com, parents in Beijing who wish to find their children a spouse have set strict requirements for candidates, including high income, ownership of a well-located apartment, a good education background, and a Beijing hukou. Candidates from other provinces in China are discriminated against, while those who don't possess a house or a Beijing hukou have no chance to enter the local marriage market.
"I think marriage in China has turned nasty. It's no longer based on the combination of two loving souls, but the alignment of two families' resources and social status," said Chen Jiaming, a 27-year-old software engineer in Beijing.
Rosy pipe dream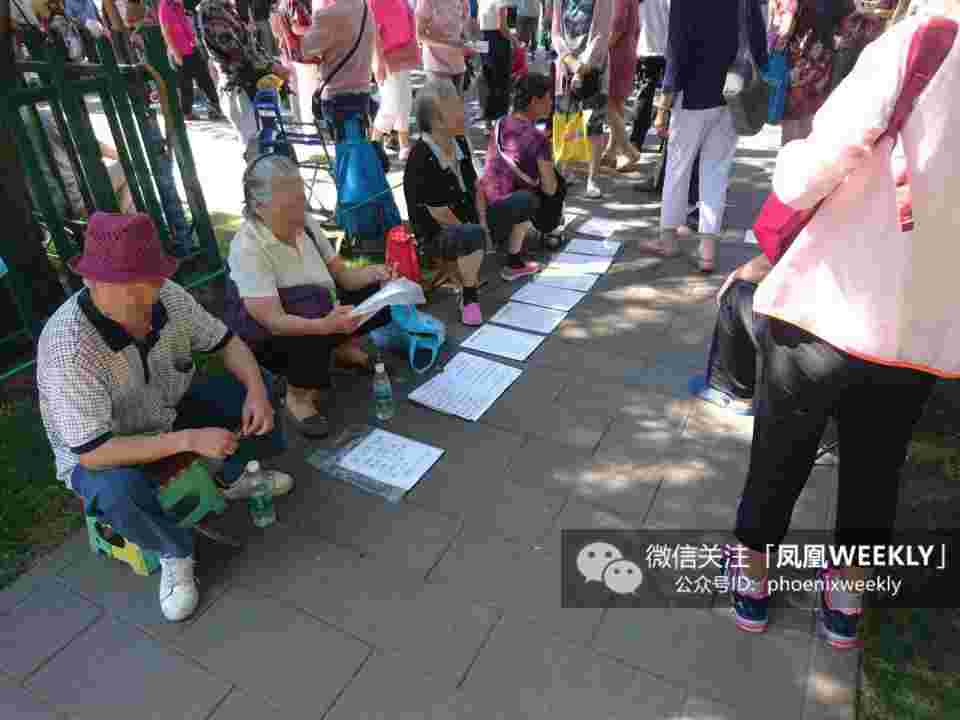 Parental Matchmaking in Beijing's Zhongshan Park.
"Only those who were born in Beijing will be considered," said some parents in Zhongshan Park, one of the biggest "headquarters" for parental matchmaking in Beijing.
The discrimination is obvious in the marriage market in big cities in China. The possession of a Beijing hukou, at least one apartment, and high income is the minimum requirement. Young people who fail to meet any of them will be deemed as unqualified, losing their chance of finding a partner.
Among all the requirements, a Beijing hukou might be the most important one, as it provides people and their children with access to the city's social and welfare resources, including education and housing benefits. A big-city hukou gives the holder access to relatively more resources than most less-developed cities, which makes it hard to come by.
According to a diagram circulating on Chinese social media, people who don't have a Beijing hukou are deemed the least competitive candidates at the local marriage market. Even if a woman holds a PhD degree or has a higher income than most locals, she is still at the lower-end of the marriage market.
"I feel discriminated against every time I go on a blind date. I don't have a Beijing hukou, so most men who I've met just immediately reject me. When people question your background, as if you're some livestock on sale, you feel like giving up the hope of finding a spouse," said Pu.
Even those who meet the basic requirements might be turned down for some bizarre reasons. Peng Shunli, a 26-year-old local girl, who has her own apartment and a high income in Beijing, was rejected due to her zodiac sign.
"Some parents told me that I'm very good in every aspect, except that my zodiac sign is sheep. They believe that woman whose zodiac animal is a sheep will suffer a tragedy in the future," Peng told news.ifeng.com.
The high threshold of the marriage market, to some extent, has led to more single youths in China. According to People's Daily, the number of single youths between the ages of 20 and 39 in China has reached 20 million, and the total number of singles in the country is 58 million.
"The restraints of Beijing's marriage market has completely shattered my self-esteem and hope for marriage. I guess people like me shouldn't even think about getting married in a big city," said Chen.
Marriage on the rock
"Marriage is about love, but it's more about the combination of wealth and resources. As a local who has an apartment and a Beijing hukou, I would not allow my daughter to stoop to marry someone whose background is worse than ours," said Liu Zun, a 56-year-old resident in Beijing.
Liu's opinion is shared by many local parents, who believe that a "good" marriage should improve the couple's social status, while love is just a trivial part in the relationship.
"Many people from outside the city want to use our locals as a springboard to enter big cities. Why would we give them the chance to exploit us?" said Liu.
Liu's concern is not completely groundless. According to news.ifeng.com, a candidate from a less-developed province in northeastern China posted an announcement, noting that he is looking for a partner with a Beijing hukou, even if she is disabled.
The distorted marriage market has stirred up heated discussion among the Chinese public and media outlets. As of press time, the hashtag "RejectWomenWithoutBeijingHukou" has garnered around three million views in Sina Weibo, receiving mixed reactions from the Internet users.
"I think the requirements are needed. Marriage is more than just a relationship. Without a solid economic foundation, you may suffer in the future," said a netizen.
But most netizens denounced such behavior, adding that the bizarre requirements have tarnished the idea of marriage.
"Young people's belief in marriage is on the rocks. Marriage should not be a trade, but one of the purest things a person could ever experience in his or her lifetime," wrote another netizen.