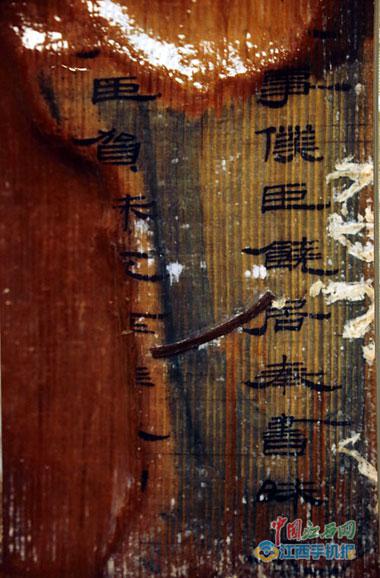 An unearthed memorial [Photo/jxnews.com.cn]
The highest level original copies of official documents existed so far
The Haihunhou tomb in Nanchang of Jiangxi province, the best-preserved cemetery from the Western Han Dynasty (206 BC-AD 24), belonged to Liu He (92-59 BC), who was later given the title "Haihunhou" (the Marquis of Haihun). He was the grandson of Emperor Wu, the greatest ruler of the Han Dynasty, and was in the throne for only 27 days-the shortest reign among Western Han monarchs.
As to the question of why the official documents appear in the Haihunhou tomb, Zhang thinks that they may had been put inside the cemetery by officials. According to historical records, after Liu He passed away, several officials from the royal court went to the funeral, and maybe it was them who brought the memorials submitted by the Liu He family over the years to the funeral and buried them with Liu He.
Zhang also guessed that the unearthed memorials may be the highest-level official documents unearthed so far, as the official documents from the Han Dynasty we have seen are mostly duplicates. The memorials were used as burial objects, which also reflects a unique destruction system of official documents from the Han Dynasty.
【1】
【2】
【3】