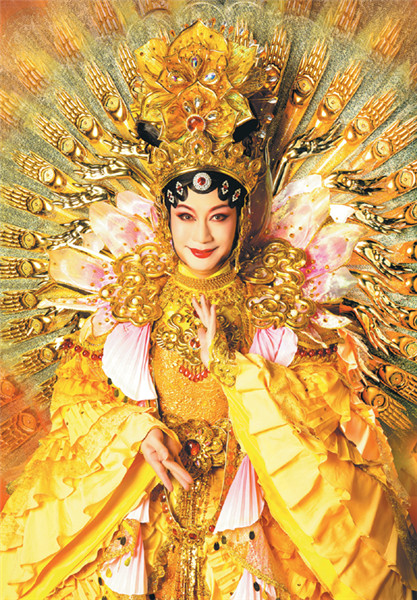 The New Peking Opera Philanthropic Guanyinof Wu Rujun debuted in Nanjing, East China's Jiangsu province on Jan 22. [Photo provided to China Daily]
Was it chance or was it fate? The boy was just 4 years old and what delighted him most were his Shaolin training classes. But any possibility that he might even one day aspire to being a Shaolin master was shattered in a trice one day when he badly sprained his ankle during training.
From that point on any notions that Wu Rujun had of going further down the Shaolin path evaporated and instead another calling that in fact seemed a much more natural choice for him came into view: Peking Opera.
Rujun was born in Nanjing, Jiangsu province into a family with solid ties to this art form, his father being a renowned jinghu(a two-stringed fiddle who accompanies actors in the Peking Opera) musician and his mother a renowned singer. Yet the thought of passing on their artistry to their son barely crossed their minds, Wu says, until a friend visited the family, recognized the boy's talent and suggested to his parents that they teach him. Wu began to learn the jinghufrom his father when he was 9.
"Jinghu is too difficult for a child," says the actor, now 53, who has spent half of his life in Japan.
"It is different from the piano, each of whose keys has a specific pitch. Playing the two-stringed instrument is like playing wire ropes; you have to use various techniques and varying intensity to make it sound pleasant."
As he poured time and effort into practicing the instrument he drew more praise, and eventually the boy who might have become a Shaolin master had in fact become a servant - to the national treasure that is Peking Opera.
In six years of study at the National Academy of Chinese he pressed on with getting to know the jinghueight hours a day and finally graduated with excellence in all subjects. His beautiful falsetto that contributed to his later success in playing a dan(female character) also appeared in this period.
【1】
【2】