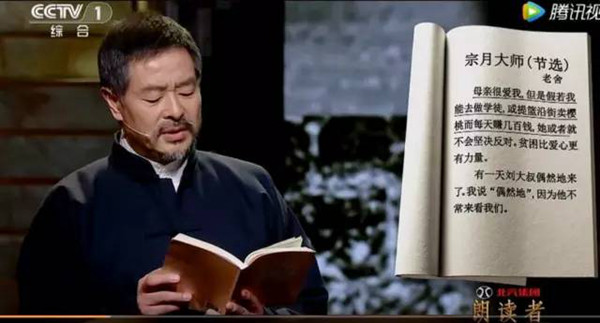 Actor Pu Cunxin reads on the show Readers.[Photo/a snapshot from CCTV]
Revival of cultural shows?
The 80-minute episode has struck a chord with thousands of people online, earning high praise.
"The show is a a breath of fresh air in such a fickle world," said an internet user named @PanxiaopanQing_ke on China's Twitter-like Sina Weibo.
"We need such programs to call for all people to read and also to promote Chinese culture. It will help purify the social atmosphere, and bring more nutrients to the younger generation,"@yln-yiyiyiyi posted.
"It's communication between words and emotions. The power of language then touches the bottom of our hearts," @Kuangyewuyiren posted.
The Readersis only one of the culture-themed TV programs that have reignited the country's passion for literature in recent years. Others include the Chinese Poetry Competition, Chinese Characters Dictation Contest, and Chinese Idioms Contest. When the 10-episode Chinese Poetry Competitionwas aired from Jan 29 and Feb 7, it attracted more than 1.16 billion viewers nationwide.
When asked if the "spring" of cultural shows had finally arrived, Readershost Dong disagreed.
"I don't think it's now the time to say that the spring for cultural shows has come because of the success of the Chinese Poetry Competitionand Readers. In order to stand out among other variety shows, we need more efforts and changes in the overall environment (a larger number of constant audiences). But the success of these programs is like a vane, through which we can see that there is a huge demand of cultural shows in the public. In today's television world where reality shows have dominated, this is very encouraging."
With more people reflecting on their own reading habits, the question now is: when is the last time you read a poem, or, book excerpts aloud?
【1】
【2】
【3】
【4】
【5】