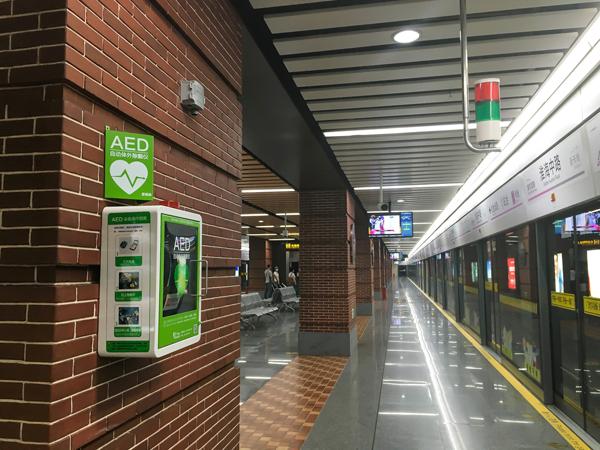 Shanghai authorities have set up automated external defibrillators (AED) in metro stations around the city in an effort to reduce deaths caused by sudden cardiac arrest. The new AEDs have been placed in several especially busy metro stations, giving passengers full access to the life-saving equipment in case of an emergency.
Around 544,000 people in China die from sudden cardiac events every year, with a survival rate of less than 1 percent. The ability to receive an electric shock from an AED immediately following the event dramatically raises a patient's chances of survival. However, only about 1,000 AEDs are installed around Shanghai, Thepaper.cn reported.
In order to tackle this sparse distribution, local authorities have been gradually increasing the number of AEDs in public areas. The government in Shanghai's Pudong district plans to install around 800 AEDs in public areas by the end of 2018, and AED training is now being introduced at local universities.
Despite the government's effort to promote public access to AEDs, problems still exist, as relatively few citizens are trained on how to operate the devices.
"AEDs should be operated by professionals. Though it takes only a couple of hours to learn the basic usage of the equipment, it can cause severe damage if the operation is not carried out properly," said Lu Le, a Shanghai-based expert, who stressed that the maintenance of AEDs is also very important.