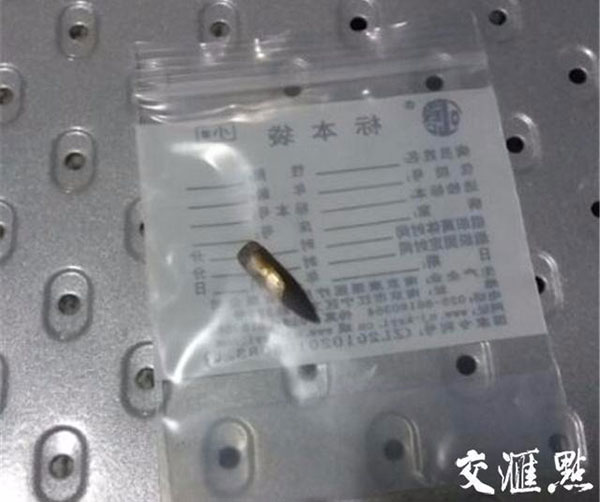 Photo taken on September 12, 2016 shows a stray bullet was taken out of the body of a woman. [Photo: Jiaohuidian news]
A woman walking with her baby in a pram through a residential community in Nanjing where she lives has been shot by a stray bullet which came from a shooting range nearby, reports Yangtse.com.
The woman, Qin Haixia, said she felt a sharp pang of pain as she and her husband were walking in Cuiping International City in Nanjing on September 12, 2016. After seeing the doctor, Qin was shocked to find that she had been shot by a stray bullet. She had to undergo an operation and was hospitalized for a month.
Qin told the reporter that the bullet came from a range at a university in Cuiping Mountain nearby, and was fired by a student who missed the target in shooting practice.
"My baby is only 9 months old, but the accident stopped me from breast feeding. When I was in hospital, my husband spent a lot of time looking after me and that affected his work. Now that I'm out of hospital, I feel the pain caused by the dislocation of my lumbar, and I can't look after my baby, nor can I do the housework." Qin Haixia said in great pain.
She added, "If my baby was shot, he would be dead. The community is within 2 kms of shooting range, who is to shoulder the responsibility if someone gets shot?"
Qin's incident is not isolated. There have been many similar incidents in the community. In September 2015, a neighbor's air-conditioner was shot at and damaged. In September 2016, the window of a neighbor's apartment shattered.
Similar incidents have been also reported in other communities.
Norway Woods neighborhood is opposite Cuiping International City. On the afternoon of September 19, 2015, a woman surnamed Li, found the back window of her car had been broken. She watched security camera footage but couldn't see anyone hitting the window. However, a few days later, she found a bullet in the trunk of her car.
It's been suggested the range move away to meet the concerns of residents.
As for the accidents caused by stray bullets, the person in charge at the university in Nanjing explained that as the range is not open to public, the accidents were caused by students whose shots missed the targets. They added that compensation had been arranged privately.
A battalion commander who has been at the range for many years told the reporter that a lack of thought when the range was built meant it posed a danger to surrounding neighborhood.
A person in charge of the planning bureau in Jiangning district said that when Cuiping International City was being built, they didn't know there was a shooting range nearby.
【1】
【2】
【3】