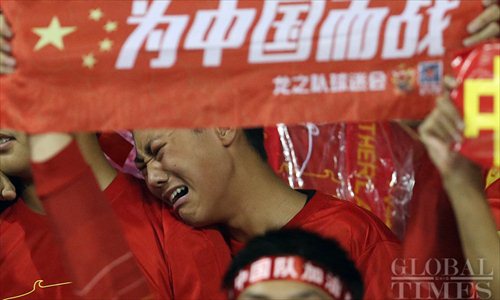 (Photo/Global Times)
The Chinese national soccer met with a heartbreaking setback in its pursuit of the 2018 World Cup after the team's defeat by Syria during the recent National Day holiday.
The soccer match, held on Oct. 6 in Xi'an, Shaanxi province, saw the host team dominate ball possession, yet the game ended with a goal by midfielder Mahmoud Mawas in the second half. The game also marked Syria's first victory in the qualifying games, and put great pressure on the Chinese team.
In the wake of the disappointing match, many Chinese soccer fans have pointed out the sad irony that the world's second largest economy, with its huge population, could not beat a smaller, war torn nation. Nevertheless, perhaps looking for a silver lining, one WeChat public account published an article claiming that the Syrian victory had led to a 48-hour ceasefire deal between the Syrian army and the rebels.
"Do not call the Chinese national soccer team useless. They have made a great contribution to world peace and shielded Syrian civilians from more violence. This is what we call the spirit of sports," the article read.
The article quickly went viral online. However, it was soon dismissed as nothing more than a rumor by CCTV on Oct. 7. The Xinhua News Agency also quoted its chief correspondent in Damascus, Che Hongliang, as saying that violence and battles persisted in Aleppo despite the outcome of the match.
China is currently attempting to reach its second World Cup finals in history in the tough Group A, which includes 2022 World Cup host Qatar, as well as Uzbekistan, South Korea, Iran and Syria. China's match against Uzbekistan will take place on Oct. 11, according to Xinhua.