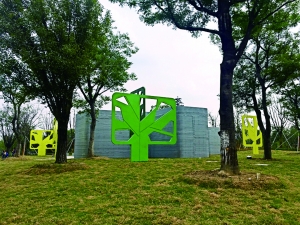 A botanical garden in Suzhou, Jiangsu province recently became the world's first scenic spot to build a public restroom with the aid of 3-D printing technology. The restroom, covering 500 square meters, resembles a modern building complex in its appearance.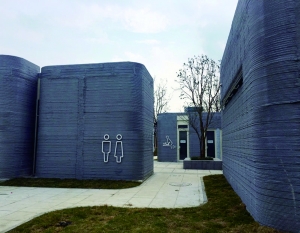 The public restroom includes facilities for men and women, as well as special facilities designed for children and the handicapped. Several baby care rooms and lounges are also part of the design. Surrounding the structure are green and yellow 3-D-printed leaf sculptures, giving it a modern look and helping it blend into its environment.
According to an employee at the botanical garden, 3-D printing technology supports more architectural designs than traditional building techniques because it's free from limits set by mechanics. Moreover, no dust or construction waste is created in the building process because any waste gets immediately recycled and processed to be used for the structure, the employee said, adding that 3-D-printed materials are also stronger than traditional building materials.
One more bonus is that the 3-D-printed restroom was able to be built in just one month, whereas a traditional structure of the same size and complexity would require three to four months.