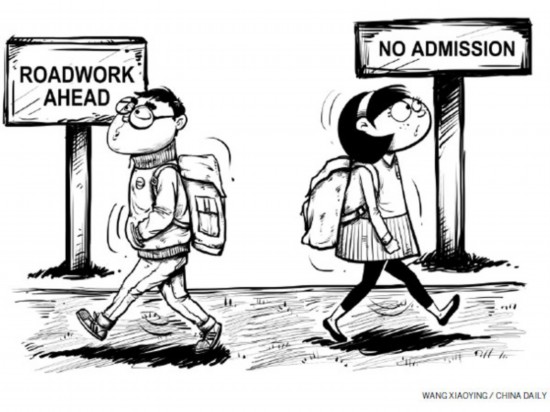 (Wang Xiaoying/China Daily)
The State Council, China's cabinet, has issued the most complete reform plan for schools and college enrollment and the examination system since the resumption of the college entrance exam (or gaokao) in 1978. The reform is aimed at exploring the correlation between college enrollment and senior middle school education, facilitate quality education, offer more options to and ease the exam burden on students, and promote their all-round development.
The problem is that, although the reform is intended to ease students' burden by canceling the exams for liberal arts and science subjects, it could turn the three-year senior middle school studies into a period for preparation for the gaokao. In the final analysis, therefore, it will increase students' burden.
According to the new reform plan, all gaokao candidates have to take examinations of Chinese, mathematics and English, and choose three non-compulsory subjects. Students also have to submit their scores in three subjects, including biology, chemistry, geography, history, physics and politics, which they achieve throughout high school. These scores have to be submitted along with scores for the mandatory subjects of Chinese, math and English. Students will have the option of retaking their English proficiency test and submitting the better score.
【1】
【2】