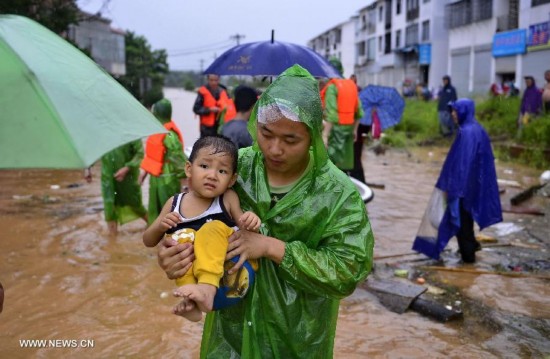 A rescuer helps a little boy transfer to safety place in Baota Township of De'an County, east China's Jiangxi Province, July 24, 2014. One person had been confirmed dead while two others missing as typhoon Matmo hit the county. Over 100,000 local residents were affected by the typhoon. (Xinhua/Zhou Mi)
BEIJING, July 24 (Xinhua) -- About 155,000 people in China's Zhejiang, Fujian and Jiangxi provinces were evacuated as of 9 a.m. Thursday after typhoon Matmo made landfall in Fujian Province Wednesday afternoon.
More than 403,000 people have been affected since Matmo landed in Gaoshan Township in Fuqing City at 3:30 p.m. on Wednesday with a wind speed of up to 30 meters per second, the Ministry of Civil Affairs said in a statement.
A total of 500 houses have been destroyed and 1,100 hectares of crops damaged in Fujian, where direct economic losses are estimated at 310 million yuan (50 million U.S. dollars), the statement said.
In Zhejiang, 135,000 people were affected and over 100 houses damaged, with direct economic losses reaching 49 million yuan, it said, adding Jiangxi has relocated 1,900 residents.
【1】
【2】
【3】
【4】
【5】
【6】
【7】
【8】
【9】