New products, emerging industries shine at Hainan expo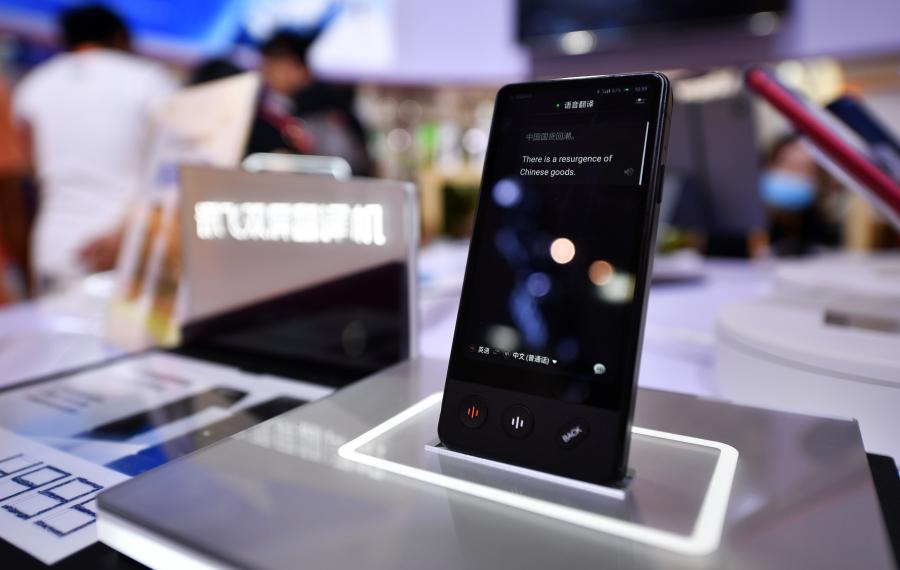 Photo taken on May 9, 2021 shows a domestically produced translator on display in the Provinces, Municipalities, Autonomous Regions of China Exhibition Hall during the first China International Consumer Products Expo in Haikou, capital of south China's Hainan Province. (Xinhua/Guo Cheng)
HAIKOU, May 9 (Xinhua) -- With the COVID-19 pandemic still raging and the world economy continuing to drag, the first China International Consumer Products Expo (CICPE) has offered a stage on which enterprises can release new products and services in diverse areas, while tapping the development potential of the Hainan Free Trade Port (FTP) and the whole Chinese market.
The four-day event opened on Thursday in China's southern island province of Hainan, attracting the participation of 648 enterprises from 69 countries and regions.
NEW DESTINATION
"The Hainan FTP is a unique place to pursue your dream, and the ongoing consumer products expo provides a precious opportunity to gather global dream-seekers," said Yu Lina, with Ernst &Young China, an exhibitor at the expo.
In 2018, China proposed the establishment of a free trade zone in Hainan, with construction of the Hainan FTP starting last year. A package of favorable policies has been introduced to further facilitate free trade, investment and cross-border capital flows.
Ernst &Young, a multinational professional services network with headquarters in London, captured the trend and opened its office in Hainan in 2018.
"The Hainan FTP has unique advantages and favorable policies in offshore duty-free, visa-free entry, and free imports. We have seen a growing number of enterprises settle down in Hainan, seeking development opportunities in the new investment destination," said Yu.
According to the provincial government, direct foreign investment in Hainan grew from 340 million U.S. dollars in 2017 to 3.03 billion in 2020, and the number of new foreign-invested companies expanded to nearly three times the number in 2019.
With a total population of over 1.4 billion and more than 400 million middle-income residents, China has become the world's most promising consumer market. According to China's Ministry of Commerce, consumer goods imports into China grew 8.2 percent in 2020, reaching 1.57 trillion yuan (about 242 billion U.S. dollars).
"The expo is an ideal platform for global high-end brands to enter both Hainan and the whole Chinese market," said Sung Hae Lee, chief representative of the Korea SMEs and Startups Agency, at the expo.
From 2025, the entire island of Hainan will become duty-free and emerge as a paradise for the duty-free and tourism retail industry. "Global brands are preparing for their future opportunities in the Hainan FTP," said Han Shengjian, director of the Hainan bureau of international economic development.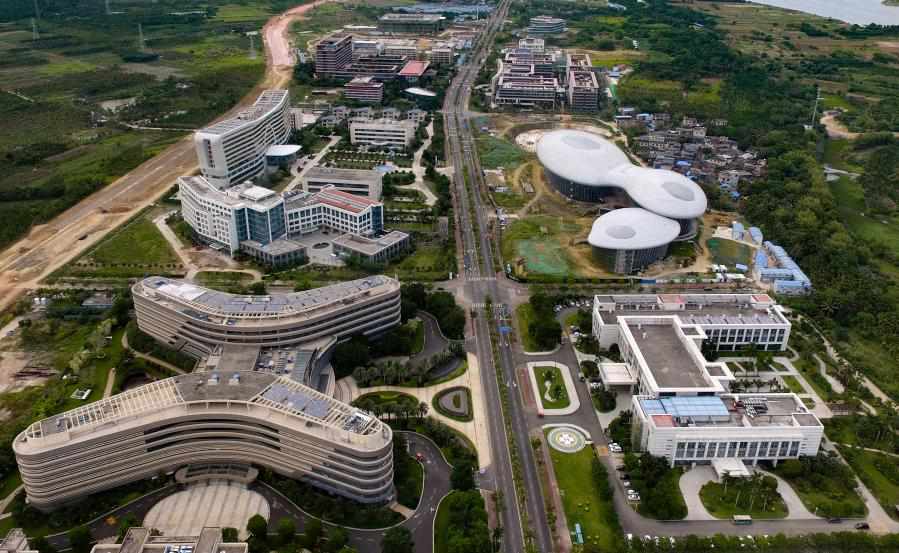 Aerial photo taken on April 3, 2020 shows a view of Hainan's Boao Lecheng pilot zone of international medical tourism in south China's Hainan Province. (Xinhua/Guo Cheng)
NEW INDUSTRY
At one exhibition booth, Huang Song, a staffer at the Boao Lecheng International Medical Tourism Pilot Zone, was busy discussing cooperation with exhibitors in the medical and tourism consumption sectors.
"Many companies make a special trip to discuss cooperation on medical tourism with us. The expo offers us a chance to promote medical tourism among more enterprises from home and abroad," said Huang.
The medical tourism pilot zone was established with the approval of the State Council in 2013, to develop those industries related to international medical tourism, such as licensed medical treatment, health management, care rehabilitation, medical cosmetology and anti-aging.
As an emerging international medical tourism destination, a cutting-edge medical R&D and transformation base, as well as a gathering place for new Chinese medical institutions, the pilot zone is positioned as the leading area for the construction of the Hainan FTP.
"For domestic patients, we will provide medical resources that are not available in the Chinese mainland market at present. For overseas patients, we will combine the traditional Chinese medicine and other medical fields with Chinese characteristics, along with the nature tourism and recuperation resources that are endemic to Hainan," said Huang.
"The Hainan FTP offers us a huge space to develop the emerging industry of medical tourism," said Huang. "We hope to use the expo as a platform to popularize medical tourism and explore the global market of medical tourism."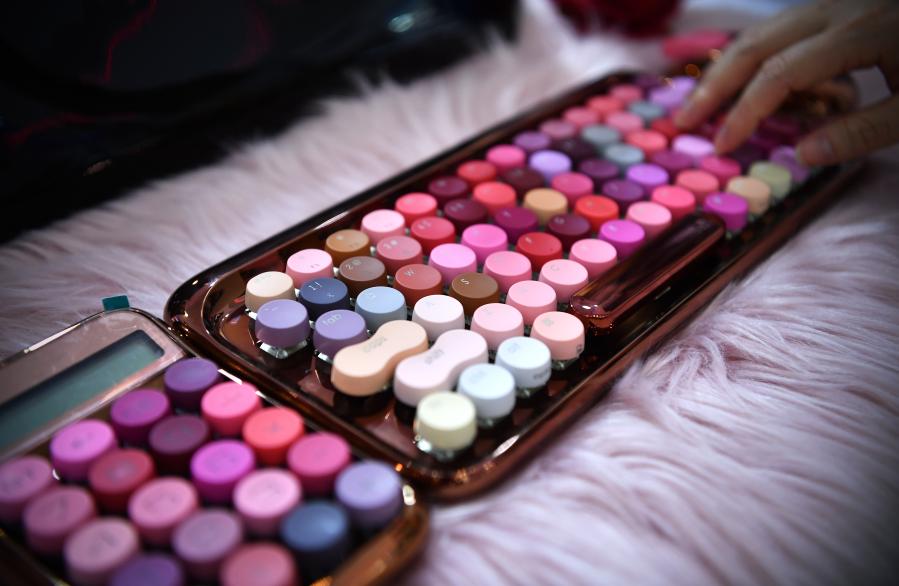 Photo taken on May 9, 2021 shows domestically produced keyboards on display in the Provinces, Municipalities, Autonomous Regions of China Exhibition Hall during the first China International Consumer Products Expo in Haikou, capital of south China's Hainan Province. (Xinhua/Guo Cheng)
NEW FASHION
Also in the spotlight at the expo are the latest fashion trends and eye-catching products, such as bonded warehouses, intelligent manufacturing, fashion education and cross-border livestreaming.
Secoo Holding, Ltd., a cross-border e-commerce platform headquartered in Beijing and selling lifestyle products and services, joined the expo with a series of smart beauty products.
"We are launching skin-testing services using artificial intelligence technology for visitors during the expo," said Jia Zhu, head of the company's public relations department.
Jia added that Secoo has benefited from the favorable policies implemented due to the construction of the Hainan FTP, and the company plans to build fashion schools in Hainan to train high-end talent for the fashion industry.
Cross-border e-commerce platforms such as Secoo have created an important platform for brands from home and abroad to release their latest products and fashion ideas before they reach the customers.
On Friday, over 100 brands signed strategic agreements with Tmall Global, an online marketplace of Alibaba Group, with the aim of selling their new products on display at the expo via Tmall in the coming year, making use of the booming demand from Chinese customers.
With an increasing number of foreign brands and firms attracted to the resort island, along with their new products, Hainan is expected to see more innovative development in more areas through cross-border cooperation.
(Web editor: Guo Wenrui, Liang Jun)